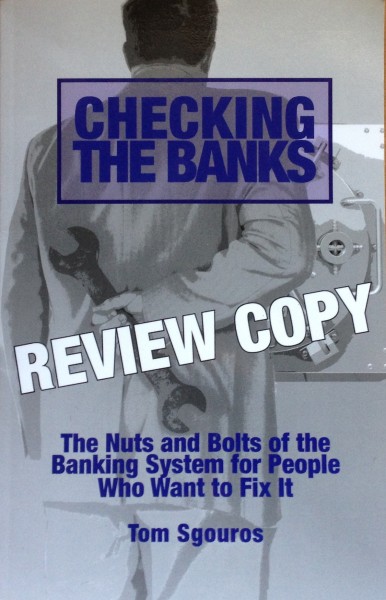 Coming soon to your winter reading list: Tom Sgouros' second book.
His first book focused on conservative mythology about the Ocean State, and this time the RI Future contributor and well-respected progressive policy analyst sets his sites on a national level with a look into the banking industry. It's called, 'Checking The Banks: The Nuts and Bolts of the Banking System for the People Who Want to Fix It."
He calls it "a primer on banking language and practices… a modest list of useful concepts, a discussion of how banks work, and how they fail, as well as some suggestions for new institutions that might help make change."
Sgouros uses his talent for making complex subjects easier to understand
The growth of banks from small institutions to large has had profound effects on all of us, not the least because of the necessary change in strategies to manage banking risk. When a bank makes a loan, it takes a risk that the loan may not be repaid. Banking is fundamentally about managing that risk, and other risks associated with the enterprise. But there are many ways to manage a risk. One way is to get to know your borrowers, to assess their needs, perhaps even to help them repay the loan with the occasional extension or refinance. In the case of a business loan, a bank could sometimes ease risk through introducing the borrower to potential customers for his or her businesses. Another way to manage risk is simply to find someone else to assume it. One way manages risk by reducing it; the other simply foists it onto a sucker.
But he not only points out the problems the banking industry faces, he also offers solutions with chapters on regulations, starting a bank, government funding, public banks and credit unions, among other ideas.
Traditionally, starting a bank is something for rich investors to do, but there are plenty  of others out there who have the capaicty to have an impact on our financial system…
The book, published by Light Publications, a Providence company owned and operated by Mark Binder, will be available commercially in the near future.
Tom Sgouros' new book explains problems, solutions to banking crisis

,