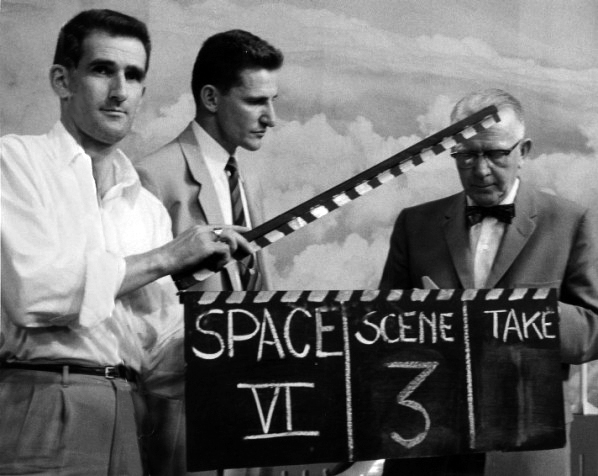 State leaders presented their revised truck toll plan at the State House today, with legislation being introduced in both the House and the Senate this afternoon.
"This proposal fixes our roads and bridges and is good for our economy," said Speaker of the House Nicholas Mattiello, "We are not going to be last any more."
"New plan expressly prohibits tolling passenger vehicles because this was "important to Rhode Islanders," said Senate President Teresa Paiva Weed.
RIDOT director Peter Alviti, Jr. said 150 structurally deficient bridges and 50 not quite deficient bridges will be repaired over the next ten years in this plan. 14 gantry locations have been identified "right now."
By 2025 we will have the bridges in this state only 10% structurally deficient, said Alviti.
We have requests for an additionally $600 million in repair requests from local cities and towns, said Alviti.
RhodeWorks is the same program, funding is different, said Alviti.
This will rely on Garvey bond/financing, with some savings through refinancing, said Raimondo, Mattiello and Paiva Weed. It leverages federal money.
It's the way these things are always done in Rhode Island, said Raimondo.
Connecticut will be tolling cars and trucks next year, said Mattiello. "We can't have a robust economy with the worst infrastructure in the country."
"It's the best approach for Rhode Islanders," said Mattiello. "Don't listen to the rhetoric of trucks today, cars tomorrow."
The RI Constitution is a "sacred document and you don't change it over  de minimus issues," said Mattiello.
"The avoidance and diversion issue is not as real an issue as some people suggest," said Mattiello, in essence denying that trucks will drive too far out of their way to avoid tolls.
Here's the press release:
Governor Gina M. Raimondo, House Speaker Nicholas A. Mattiello, and Senate President M. Teresa Paiva Weed this afternoon announced revised RhodeWorks legislation that takes into account new federal funding. The legislation puts people back to work repairing our crumbling infrastructure and provides the reliable, sustainable source of revenue necessary to rebuild our bridges, which are ranked the worst in the country.
With the addition of the new federal funding, the revised legislation cuts the amount of bonding in half (from $600 million to $300 million) and reduces interest costs by more than 65%. The legislation also strengthens the prohibition on tolling passenger vehicles by adding a condition that a vote of the people be required for any legislative changes to toll cars.
See the comparison here: http://www.dot.ri.gov/documents/news/RhodeWorks_Bill_Comparison.pdf
And a fact sheet on the updates here: http://www.dot.ri.gov/documents/news/RhodeWorks_Fact_Sheet.pdf
The legislation will be introduced this afternoon in the House by Majority Leader John DeSimone and in the Senate by Majority Leader Dominick Ruggerio.
The Governor, Speaker, and Senate President issued the following statements today:
Governor Gina M. Raimondo
"I am grateful for the partnership of the Speaker and Senate President to take action and get this done. Rhode Island has the worst bridges in the country: we're ranked 50th out of 50 states. We can no longer afford the politics of procrastination; we need to invest more. This proposal will allow us to move quickly to repair our roads and bridges, and put Rhode Islanders back to work, without raising taxes on Rhode Island families and small businesses.
"Because of new federal funding, we were able to strengthen the proposal: we've lowered the maximum truck toll amount, decreased the number of gantries, and significantly reduced the state's interest payments. I look forward to continuing to work with the House and Senate to pass this legislation and grow our economy."
House Speaker Nicholas A. Mattiello:
"I commend the Governor for taking into account the additional federal highway funding heading to our state and proposing a vastly improved plan to the legislature that will create jobs, increase our state's wealth, and most importantly, repair our badly deficient roads, bridges and overpasses. A sound infrastructure is essential to a thriving economy, and this is a step we must take to be more competitive with other states. The new federal money also allows our state to borrow much less with greatly reduced interest costs and risk.
"Despite the scare tactics of opponents of this proposal who only want to hold our economy back, the toll plan only includes large commercial trucks. There are now safeguards in the legislation to assure our citizens that tolls will never be extended to cars without voter approval."
Senate President M. Teresa Paiva Weed:
"The passage of federal highway funding in December has enabled the development of a new RhodeWorks plan that dramatically reduces borrowing. Most Rhode Islanders agree we need to invest in our roads and bridges. The Governor's RhodeWorks plan remains the best proposal to address this challenge. It provides the surge in funding which is necessary to accomplish projects quickly, and save taxpayers from more costly repairs in the long run. It would toll only large tractor trailer trucks, the ones causing most of the vehicle-caused damage to our roads and bridges, while expressly prohibiting extension of tolls to passenger vehicles."
[From a press release]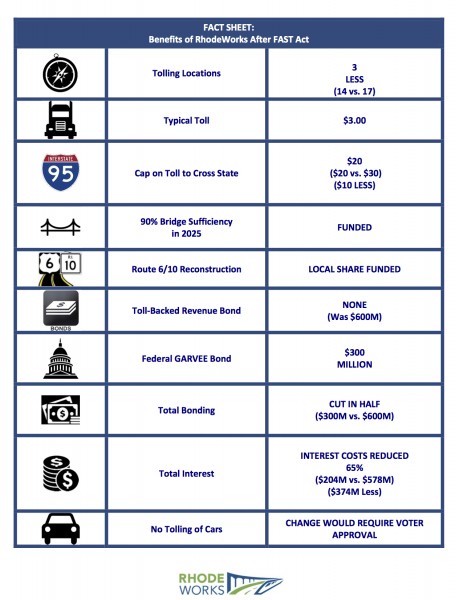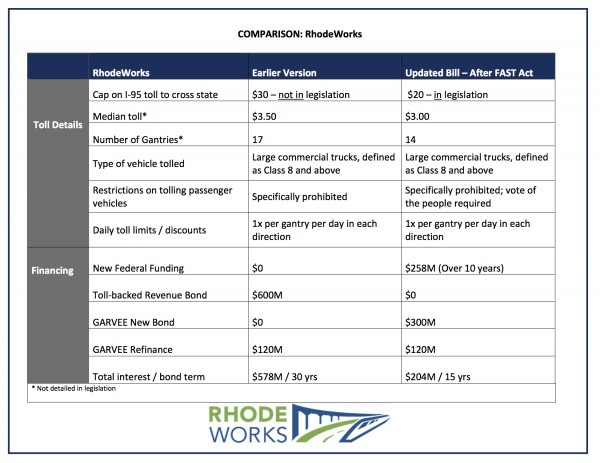 Truck Tolls, Take 2: Revised plan presented

,