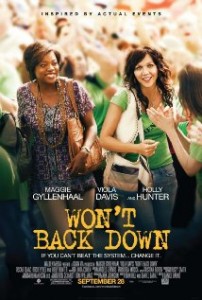 The anti-teachers' union movie "Won't Back Down" will soon come to Rhode Island pushing the concept of parent trigger laws, where 51% of parents can close down a public school.
"Won't Back Down," Diane Ravitch put it, "is a movie celebrating the ALEC-inspired 'parent trigger, encouraging the public to think that parents should seize control of their public school, fire the staff, and hand the school over to a charter corporation."
It stars Viola Davis, a product of the Central Falls schools. Shame on her for pushing propaganda, exaggerations and untruths about life in a public school, especially in the city where Commissioner Gist and Central Fall's Superintendent Gallo fired the teachers in 2010.
The movie is full of misrepresentations, such as saying several times that the union forbids teachers from staying in the school where they teach after 3 p.m. This is factually untrue. In fact there was a new study done by the Bill and Melinda Gates Foundation called Primary Sources: America's Teachers on the Teaching Profession that stated teachers work 10 hours and 40 minutes a day on average. That's a 53-hour work week!
I encourage you to read Valerie Strauss's Washington Post article explaining the survey and the hours teachers put in beyond the regular school day.
Leonie Haimson, a New York parent activist and co founder of Parents Across America, says the movie's plot regarding parent takeover has no resemblance to reality and that parent trigger has a 100 percent failure rate and has pitted parents against parents. Interesting since Michelle Rhee and her school-reformer friends use techniques to pit teachers against teachers.
As Fall comes upon us tomorrow officially, there will be many movies for you to go and see. Don't let this propaganda film for corporate profit makers be one of them…Don't get caught up in the hype. Don't let your movie money support such a misleading movie. Support your teachers by avoiding this corporate school reform distortion message. Don't let the corporate rich and school reformers like Rhee, Jindal, Chris Christie, Mayor Bloomberg , Gates, Murdoch & others fool you into believing this anti union movie for that is exactly what it is…..
Truth About Anti-Union Movie 'Won't Back Down'

,