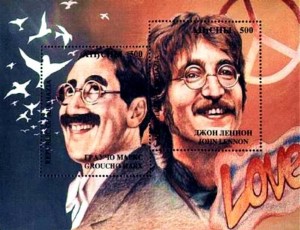 It is our hope that this new feature – the 'Tuesday to Tuesday Arts and Entertainment Calendar' will bring a lighter side to the fare. As we move into the dog days of summer, I'm open to tips and press releases regarding the events you or someone you know may be holding in the next few weeks. Feel free to e-mail data to me at andrew.james.stewart.rhode.island@gmail.com.
MY PICKS
Here is my selection of events that you should definitely consider checking out this week.
9/1
Open Sewing Circle at AS220, 9 pm, Free
Why not? It is a skill that helps bring people together and form bonds well beyond the thread.
9/2
Paper Theatre by Great Small Works and Facto Teatro at AS220's Blackbox, 7:30 pm, $15
It may be a bit costly, but a paper-doll puppet show is worth your time.
9/3
Movies on the Block: GANGS OF NEW YORK at Grants Block, 7:30 pm, Free
It's not the best of Scorsese's work, but it is still an amazing work.
9/4
SwapDrobe: Co-Ed Wardrobe & Accessories Swap at Green Envy Eco Boutique, 5 pm, $5
A great opportunity to engage in the ethics of green living, something we all need to be taught about.
9/5
Grungy Garage – a DIY Trunk Sale Event at Jimmy's Saloon, 2 pm, $10 (21+)
The adventures that can be found just beg for you to attend.
9/6
From Scratch: A Works in Process Night at AS220's Blackbox, 7 pm, $7
Come out to see some of the exciting work coming soon to a venue near you!
9/7
Romp of Otters' Season Launch Party at AS220's Blackbox, 7 pm, Free
It's a holiday, sorry folks. Please send some tips my way so we can get this calendar to grow!
9/8
Cross-Armed Calculator (PVD), Incircles (NY) and Tape-Eater (MA) at Dusk, 9 pm, $6 (18+)
Come see a gathering of bands from three states together at a great venue!
9/1
Stretch & Strength at AS220 Live Arts Dance Studio, 12-1 pm, $5
Open Life Drawing at AS220, 6 pm-8:30, $6
Intermediate Ballet Class with Danielle Davidson at AS220 Live Arts Dance Studio, 7:15 pm-8:45 pm, $13 per class/$60 for 6 classes
"I Do, I Do" Exhibit at Linden Place Mansion, 10 am, $8/$6 seniors
Songs to Drive Cars, Baggie Rajwah, Valley Reverse and Mic P at AS220 Main Stage, 9:30 PM, $6
Open Sewing Circle at AS220, 9 pm, Free
9/2
Vinyasa Yoga with Julie Shore at AS220 Live Arts Dance Studio, Noon-1 pm, $5
Open Level Modern Dance at AS220 Live Arts Dance Studio, 6:30-8 pm, $13 per class/$60 for 6 classes
Clothing Optional: A Figurative Show at ArtProv, 11 am, Free
Rhode Island Bicycle Coalition (RI BIKE) Speaker Series at AS220 Main Stage, 6 pm, Free
Paper Theatre by Great Small Works and Facto Teatro at AS220's Blackbox, 7:30 pm, $15
Voodoo Cuisine, Deceiving Texture, Hombres Del Mar, and ThunderBug at AS220 Main Stage, 9 pm, $6
9/3
Evening Yoga at AS220 Live Arts Dance Studio, 6:15 pm, $13 per class; $60 for 6 classes
Movies on the Block: GANGS OF NEW YORK at Grants Block, 7:30 pm, Free
2015 Burnside Music Series: Javelin + Preshow sounds by Analog Underground! at Kennedy Plaza, 4:30 pm, Free
LAST SHOW! ALEX AND ANI Summer Concert Series at Carolyn's Sakonnet Vineyard, 6 pm, $10 per car
And then That Happened….Again! featuring Christopher Johnson at AS220's Blackbox, 7:30 pm, $10 (Free for Brown/RISD Students)
Free Speech Thursdays Presents: Providence Poetry Slam at AS220 Main Stage, 8 pm, $4
Sayings, Actor Observer, In Depths and Tides, This Side of Paradise, and Patrick Cowley at The Met, 7 pm, $10 Adv/$12 Day Of
9/4
Friday Night Live, Open Stage, and Lemonade at Everett Stage, 6:30 pm, $5
Opening Reception for Inspiration at Artists' Cooperative Gallery of Westerly, 5 pm, Free
SwapDrobe: Co-Ed Wardrobe & Accessories Swap at Green Envy Eco Boutique, 5 pm, $5
Encaustic paintings by Anne Marie Rossi at Imago August, Noon, Free
And then That Happened….Again! featuring Christopher Johnson at AS220's Blackbox, 7:30 pm, $10 (Free for Brown/RISD Students)
Spitehouse, Kyoty, Land Of Fires and Casino Hunks @ AS220 Main Stage, 9 pm, $6
Live Bait: Race at 95 Empire Black Box, 10 pm, $7
Natur and Balam at The Parlor, 9 pm, $5 (21+)
Color Me Badd, Rob Base, The Original and TKA at Lupo's, 8 pm, $60/$50/$30/$25
The Dead LA, Truth In Soul, and Brother Moon Music at Lupo's, 8 pm, $8
9/5
Grungy Garage – a DIY Trunk Sale Event at Jimmy's Saloon, 2 pm, $10 (21+)
Traditional Irish Music Session at AS220 Bar & FOO(D), 4 pm, Free
Hoop-la! at Providence Children's Museum, 9 am, Free with Museum admission of $9.00 per person
LAST DAY! Summer Work at Hera Gallery, 10 am, Free
And then That Happened….Again! featuring Christopher Johnson at AS220's Blackbox, 7:30 pm, $10 (Free for Brown/RISD Students)
Whenskiesaregray, Terror Eyes, There is Nothing Wrong With Your Television Set and Ember Wreath at AS220 Main Stage, 9 pm, $6
Improv Jones at AS220 Black Box, 10 pm, $5
The Wishing, The Wolf Hongos, Steve Donovan & The IRS, and Warbler Roost at The Parlour, 9 pm, $5 (21+)
Where The Wild Things Are Julians & Allagash Beer Dinner at the Steel Yard, 6:30 pm, $99
The J. Geils Band at India Point Park, 6:30 pm, $69
The Wishing, The Wolf Hongos, Steve Donovan & The IRS and Warbler Roost @ The Parlour, 9 pm, $5 (21+)
9/6
Core Workout with Daniel Shea at AS220 Live Arts Dance Studio, 9 am, $5
Beginner Ballet at AS220 Live Arts Dance Studio, 10:30, $13 per class/$60 for 6 classes
Intermediate Ballet w/ Stephanie Albanese at 95 Empire Dance Studio, Noon, $13 per class/$60 for 6 classes
2nd Annual Live Happy Live Healthy Live Green Expo at River Island Park, 10 am, Free
Hoop-la! at Providence Children's Museum, 9 am, Free with Museum admission of $9.00 per person
LAST DAY! "Island Time" at the Bristol Art Museum, 1 pm, $2
From Scratch: A Works in Process Night at AS220's Blackbox, 7 pm, $7
The Empire Revue Presents: The Surprise Show! at AS220 Main Stage, 8 pm, $10
Rager In A Box: Headband (Blt) Charles Dube (Blt) Multinerango Sun (Oak) Gyna Bootleg, Time-Based Corrector Thorn at AS220's Blackbox, 10 pm, $5
Scurvy Dog Parking Lot Mega Show at The Scurvy Dog, 2 pm, Free
G-Eazy at Lupo's, 6 pm, $38/$42
9/7
Romp of Otters' Season Launch Party at AS220's Blackbox, 7 pm, Free
9/8
Stretch & Strength at AS220 Live Arts Dance Studio, Noon, $5
Open Life Drawing at AS220, 6 pm, $6
Intermediate Ballet Class with Danielle Davidson at AS220 Live Arts Dance Studio, 7:15 pm-8:45 pm, $13 per class/$60 for 6 classes
Brian 4 Ever, Mike Mountain, Invisible Robot Hands at Psychic Readings, 9 pm, $5
Black Wool, Auvn, The Conversation, and Antonio Forte at AS220 Main Stage, 9:30 pm, $6
Cross-Armed Calculator (PVD), Incircles (NY) and Tape-Eater (MA) at Dusk, 9 pm, $6 (18+)