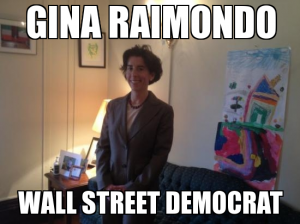 Their named may be similar but their coverage of Gina Raimondo is not.
New Ted (Siedle, of Forbes) wrote a post on Thursday saying Raimondo is recklessly investing Rhode Island's pension fund. Old Ted (Nesi, of WPRI), to borrow a phrase, fired back on Friday. New Ted has since posted twice to accuse Old Ted of having a soft spot for Raimondo and – much more pointedly – accusing her of having a soft spot for Wall Street.
From Forbes.com on Saturday:
The fees related to conservative investing range from 1 basis point (one one-hundreth of a percent) to about half a percent. The high-risk alternative investments you have steered the pension into charge exponentially greater fees—fees of about 2% plus 20% of profits or more. Do the math and you'll agree, the fees the pension will pay have skyrocketed. Mushroomed. Ballooned. Soared.

That's good for your Wall Street pals, no-so-good for workers participating in the pension. It's a little difficult to reconcile your opinion that the state's pension system can't afford to pay workers the benefits they were promised but, on the other hand, it can afford to pay Wall Street's wildest gamblers one hundred times greater fees than it has in the past.

Tell Rhode Islanders precisely how much the fees have increased under your leadership (or give me copies of the money management contracts so I can) and let's see how they feel about it.
Raimondo's overhaul or reform of the state pension will, in the years to come—long after she's moved on to higher political office, turn out to be disastrous for taxpayers and state workers, in my opinion. Hail Mary passes and other high risk gambles rarely succeed and, even if they do, are not appropriate for pensions thousands of state workers depend upon for retirement security.
New Ted publicly offered 22 questions for Raimondo to answer about how she has managed the state's the money. Anyone want to bet her answers, or at least political statements tangentially related to these questions, will appear on Old Ted's blog?