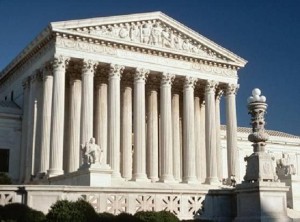 "If the court in Citizens United opened a door," wrote Supreme Court Justice Stephen Breyer, "today's decision may well open a floodgate." But his was the dissenting opinion in the Supreme Court's 5-4 ruling that strips back prohibitions on how much money people can give to candidates.
The New York Times called it "a sequel of sorts" to the highly controversial Citizens United ruling.
Senator Sheldon Whitehouse, a staunch advocate for campaign finance reform in the other direction, said in an email, "This is a step in the wrong direction for democracy. With these limits now gone, wealthy donors will be able to give millions of dollars directly to candidates and political parties. Money is getting more and more of a voice in Washington, while the voices of hardworking American voters matter less and less in our elections."
But Sam Bell, who is running for Gordon Fox's seat in the House, said there's at least some evidence that our democracy can survive without limits on campaign donations from individuals. Here's what he wrote in an email:
Campaign finance laws will be completely gone soon enough. But I'd like to offer some words of comfort: Things are pretty bad right now.  Big money already controls our politics.  Sure, it's going to get worse.  But honestly, this is a battle we've already lost.  Before you get too discouraged, I encourage everyone to take a look at Oregon and Virginia.

Oregon is a moderately blue state, one that Obama won by twelve points.  Virginia, he won by 3 points.  Democrats control the Oregon state legislature and governorship.  In fact, Oregon was one of the first state legislatures to elect a progressive as Speaker (current US Senator Jeff Merkley).  Democrats have the governorship and a razor-thin majority in the Virginia Senate, although the House is solid red.  Compared to other swing states, that's actually not so bad, especially considering Virginia only holds its elections in odd-numbered years, where Democrats are at an even worse turnout disadvantage.  Those states aren't such horror stories.  And yet both of them have no campaign finance restrictions whatsoever. Corporations can actually give money directly to candidates. So even when things get much, much worse, all hope is not lost.
In total, 12 states have no limits on the amount of money individuals can give to candidates. They are: Alabama, Indiana, Iowa, Mississippi, Missouri, Nebraska, North Dakota, Oregon, Pennsylvania, Texas, Utah and Virginia. See how all the state handle it here.