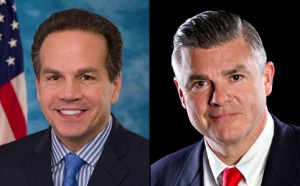 The big story to come out of WPRI's poll last night is that Republican challenger Brendan Doherty is "crushing" incumbent Democrat David Cicilline in their contest for the right to represent Rhode Island in the 1st Congressional District.
According to the poll that surveyed 250 Rhode Islanders, Doherty would garner 49 percent of the vote while Cicilline would pull in just 34 percent, with 16 percent undecided.*
This should serve as a call to action for both Democrats and progressives. If you can't support Cicilline, it's time to start recruiting David Segal to run again for the seat, as well. Or else find a dark horse.
More on what a three-way race might look like below…
__________________________
I held off on taking another look at David Cicilline in the primary until WPRI's poll numbers were out (I distrust Brown polling). Well, here they are. True to form, WPRI shows a slightly different situation than Brown's, even where all of Rhode Island was asked. Brown put Mr. Cicilline's approval rating at 14.8%. The WPRI poll shows Mr. Cicilline at 19.6%, which is slightly better.
I think the WPRI poll is superior for those attempting to divine the future, if only because it actually puts head-to-head match-ups between Republican Brendan Doherty and Mr. Cicilline, along with potential Democratic challenger Anthony Gemma. While Mr. Gemma appears that he would handily lose in a race between him and Mr. Doherty (although not enough people know either, so there are a lot of not sures), Mr. Cicilline at least has a base of support to build from; the 18-39 year olds and members of the Democratic Party. Interestingly, union members are more pro-Doherty than pro-Cicilline (who's better off with non-union voters), probably a sign that Cicilline's last-minute deal with the Providence Fire Fighter's IAFF Local 799 before his campaign hasn't boosted his union credentials, nor has his service to the Democrats in the U.S. House of Representatives.
Last time I evaluated this, I said that a primary could shape up into essentially one of five choices: Mr. Gemma runs again and loses, Mr. Cicilline collapses, Mr. Cicilline defeats a centrist, either David Segal or Mr. Gemma triumphs in a three-way race against Mr. Cicilline, or a three-way race is a boon to Mr. Cicilline. The basic thought was that it's more likely for Mr. Cicilline to win in a primary. Indeed, that still seems likely. For one thing, the Democratic Party has circled its wagons around Mr. Cicilline, and Mr. Gemma, an independent before 2010, is unlikely to excite Democratic partisans, and is unlikely to be able to get figures in the state Democratic Party to abandon Mr. Cicilline. Is there anyone capable of defeating the incumbent Representative in a Democratic Primary?
Scott MacKay appears to be wondering the same thing. Things haven't improved for Mr. Cicilline since the last time WRNI did a poll in May of 2011. Having failed to address the issue last year, the campaign is likely to be a referendum on Mr. Cicilline, when it should be a referendum on the U.S. Congress. If Mr. Segal decides to run, or Mr. Gemma, both will have to be radically different candidates, and will face a name recognition problem much as Mr. Doherty has faced. They'll also be facing the fact that their potential donor pools are the same as Mr. Cicilline's, making it harder to raise money against him.
While Mr. Cicilline does have a sizable war chest, the question is if that money will matter in a general election. Where it will matter is in a primary election; but unfortunately for Mr. Gemma, his inclusion in the polling undercuts the notion that he might be more electable than Mr. Cicilline. One of the interesting things about small races like these is how polls can influence perceptions of electability, and candidates largely need to operate between infrequent polling to make their mark. A single poll can show the emperor has no clothes; and bad polls can cause serious damage. For the time being, Mr. Cicilline appears to have nothing to shield himself with. A non-Cicilline or Gemma candidate looking to jump in might start now while the pollsters are napping.
This might also be the void that either an independent or a Moderate could step into. Lincoln Chafee eked out a close win by appealing to progressives and the base of support he had built up during his tenure in the U.S. Senate. It's not inconceivable that an independent could avoid the trouble of a Democratic primary while utilizing an aggressive media strategy to get their name in the news. This might also be the race that the Moderate Party could attempt to take on, but no candidates seem to be forthcoming, indeed, the Moderate Party has not even deigned to issue attacks on either candidate. There might be some advantages for an independent or Moderate candidate, since both national parties have damaged their brands severely over the last few years.
That's ultimately the issue. We're looking for a candidate who can be stronger than Mr. Cicilline and can overcome a large gap in name recognition relatively quickly. Providence Mayor Angel Taveras and State Treasurer Gina Raimondo leap to mind, but I think Mr. Taveras is dedicated to fixing Providence (such a run would open him up to the same criticisms as Mr. Cicilline) and that Ms. Raimondo has bigger offices she might be aiming for. Furthermore, neither seem likely to anger any of Mr. Cicilline's Democratic backers, especially since Mr. Taveras is largely surrounded by them.
A dream candidate for Democrats would be someone capable of rallying Rhode Islanders with a hopeful message while being relatively unconnected to Providence's financial woes. This would shift the referendum on Mr. Cicilline into the primary and would allow for a general election to focus on national issues, which should favor Democrats slightly as Tea Party Republicans have caused serious problems for their party's favorability. The major issue here is that Mr. Doherty has yet to take any serious positions, meaning that he is largely the anti-Cicilline in the race. Republican voices were largely condemning Mr. Doherty as a Democrat in Republican clothing during the primary before John Loughlin dropped out. If Mr. Doherty is a Republican in the Chafee mode, he may be less objectionable to voters.
__________________________
*Update: Nicole Kayner of Mr. Cicilline's campaign has given us the following statement about the poll:
"People are struggling right now and they are not satisfied with the response they are getting from Congress. David understands that. He is working hard every day to do what he can in this tough economy.  Last year, his district office has helped over 700 Rhode Islanders solve problems like navigating the Veterans Administration and tracking down Social Security checks and Medicare payments. Most recently, he held a housing fair where hundreds of Rhode Island families who were either facing foreclosure or are having trouble making their payments were able to receive assistance from lenders and housing agencies. David remains focused on doing everything possible to help middle-class Rhode Islanders get back on their feet."