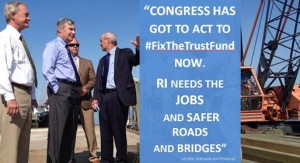 Recently Congress passed a temporary funding measure for the Highway Trust Fund. The House-designed plan used a number of funding gimmicks that drew money from non-road expenditures to cover road construction projects. Although the Rhode Island delegation put up a protest to these pro-car funding mechanisms, it also in the end voted for them.
Since the temporary nature of the budget bill means this issue will come up again shortly, progressives should be aware of what the issues are so that next time we can demand a better deal.
I've chosen to push our own Senator Whitehouse on this issue, not by any means because he's got the worst views in the Senate, but in fact because I think he's got the potential to move beyond his mediocre position and become a real champion for reform on this issue. In a state like ours, where being a champion for better transportation isn't a political liability, our senators should be using the deliberative nature of the upper house to prevent bills like this from passing.
Leading up to the vote, Sen. Whitehouse gave a speech against the House Bill, and proposed a more progressive alternative favored by a coalition in the Senate. The first thing to understand about the Senate bill is that although it was far better than the House one, and might have made an acceptable compromise, it still had a lot of problems with it, and much of that was displayed in Whitehouse's speech.
The first thing to be said is that Whitehouse puts up a big protest, but says outright in the speech that he's willing to vote for the bad bill, which he did. Think about this from the perspective of the Tea Party. What incentive does the rightwing of this country have to compromise in any form when its opponents announce such weakness upfront? The strength of the right in this country is that it continually draws a line in the sand that is outside of the Overton Window, and then demands that others catch up. The left needs to see itself in this same light. Whitehouse's criticism of the House bill was welcomed, but his admission upfront that he had nothing up his sleeve to actually oppose the bill meant that the Tea Party had already won.
Sen. Whitehouse explains a number of reasons for being willing to vote for the problematic bill:
*He says we need to protect jobs– This is an understandable position in a state with poor employment, but the nature of our road infrastructure does a poor overall job of protecting a growing economy. Short-term spending on roads does employ some people, but if those roads cut off neighborhoods from neighborhoods, that harms the overall productivity of our cities. The overall cost of road infrastructure and car-oriented development outstrips its benefits in the longterm, what some observers have referred to as the Ponzi Scheme of Suburban Development.
The nature of both the House and the defeated Senate bill did nothing to address the nature of road building. Sen. Whitehouse has, for instance, lobbied on behalf of special funding for projects like the Providence "Viaduct" which divides the city in quarters, takes up about as much land as the I-195 Project, and makes non-car travel impossible from neighborhood to neighborhood. After funding was restored to the HTF, a number of states saw resumption of road widening. If Sen. Whitehouse and the others in the Rhode Island delegation would have held their ground on this issue, a short-term crisis in road spending might have forced some serious conversations nationwide about whether we're spending our resources in a wise way.
*He uses the AAA and the American Society of Civil Engineers as support for his position. The AAA, though not viewed as a political organization by most Americans, is in fact deeply embedded in preventing transit projects, blocking parking reform, bike lanes, and other projects that reduce people's dependence on cars. The American Society of Civil Engineers (ASCE) gives "letter grades" to roads which include at times their structural integrity, but which also include measures such as "functional obsolescence." Functionally obsolete bridges sound scary, but what that term actually means is that the bridges aren't considered big enough by a subjective standard set by the ASCE. It's important to understand that solutions like road widening, which a lot of HTF money goes to, actually worsen traffic congestion by creating an induced demand to drive. By quoting these sources uncritically, Sen. Whitehouse joins the road-building lobby and betrays his best efforts to stand up to climate change. More to the point, he endangers economic development, as the bigger picture around jobs and the economy calls for more investment in walkable, bikeable, transit-oriented places, and less sprawl and road-heavy design.
*The Senator rhetorically blames the age of Rhode Island's colonial infrastructure for the poor condition of its roads. This is ironic on a number of levels, and intentionally or unintentionally misleads the public. Colonial roads, like Touro Street in Newport or Benefit Street in Providence are 1) not federally funded by the Highway Trust Fund, 2) Extremely cheap to construct and maintain–by many orders of magnitude–compared to highways, which are funded through the HTF, 3) usually able to self-support through local property taxes, because by nature they're able to have housing and businesses alongside them, something which highways tend to push away. Post WWII road construction, which usually costs more than the surplus development it encourages, and is thus fiscally unsustainable in the long run, is the source of Rhode Island's, and the country's, transportation problems.
*Senator Whitehouse deserves credit for supporting a higher gasoline tax, calling for users to pay a fee for the roads they use rather than have them funded through a House gimmick. The gasoline tax has advantages and disadvantages. One issue, as mentioned in the colonial roads example, is that for road projects the federal gasoline tax is only available to projects like bridges and large roads, and this means that local short trips by car tend to subsidize longer trips (this wouldn't be a problem if everyone used the highway equally, but since that's not the case, it effectively underprices highways and overprices local roads). The continuation of a system in which gasoline taxes only fund half of road construction means that all non-car trips subsidize car trips as well. Raising the gasoline tax would tend to improve funding for these projects, while decreasing demand to drive, but it's unclear that there's a mechanism in our current transportation system to get state DOTs, that receive and manage much of the federal HTF, to spend less on roads. The fact that Sen. Whitehouse frames road construction as a form of jobs program underlines this issue. We need a better funding system, including a mix of a higher gasoline tax, as well as parking taxes, congestion pricing, and other mechanisms, alongside a better spending system. Support for "saving" the HTF without reform means "saving" our highway-dependent road spending. That's nothing good.
*Pet projects sometimes get funding from the HTF. Sen. Whitehouse cites the Great Island Bridge, which serves a low density housing cul de sac in Narragansett. A just spending system on roads would have municipalities building bridges like this, rather than consigning them to federal spending. The overall structure of the HTF means that states get disproportionate amounts of money to spend as compared to their populations, so that Rhode Island is a rare dense state joined by many rural states that also take more than they put in to the system (the State of Rhode Island and its Providence Plantations are poorly suited to continue to expand its road system, when cities like Providence, for instance, have more highway lane-miles per capita than most other cities in the country). This means that denser, larger states that are more likely to focus on transit or biking lose out on funding. The aspects of the HTF that make it a good way to bring home spending to states with bad economies is also the aspect of the fund that makes it a bad way to prioritize transportation funding.
The federal vs. local framework that some progressives, including Sen. Whitehouse apply to this issue is understandable. On some issues, having the federal government intervene and take a stance that local governments will not is paramount to the functioning of a democracy. The history of left-leaning voters' preference for federal over local spending comes from an honest source–without the federal role, issues like African-American civil rights might never have been resolved, even to the limited degree that they are today.
But when we encounter federal programs that do more harm than good–that essentially codify a bad way of doing things–we need to distinguish between that type of federal response and other progressive examples. What's exciting about the new conservative recognition of some of these truths is that there is now a left-leaning as well as a right-leaning constituency for reform. Likewise, there still exists a left-leaning and a right-leaning constituency to keep things the way that they are. In standing up to the Tea Party, Sen. Whitehouse may have the right motivations, but if what he ends up supporting is business-as-usual with the Highway Trust Fund, that will ultimately harm Rhode Island.
Ultimately, a Rhode Island with less money to spend on roads would be a healthier Rhode Island. It would be a Rhode Island that would focus money on fixing local roads, on encouraging infill and reducing farmland destruction, on emphasizing Bus Rapid Transit and biking over road widening or vanity transit. There's no value to short-term jobs over that. As Sen. Whitehouse himself emphasized, we need to look at the overall picture for jobs, not just particular jobs in particular industries.
When Sen. Whitehouse is again confronted with a chance to vote for a bad House Bill, we hope he'll stand firm and vote no. We also hope to see some deeper investigation of these transportation and land use issues in his upcoming Time to Wake Up speeches. The Senator has been a leader on climate change within the hermetically sealed realm of direct environmental regulation, but he needs to see how his stances on issues like transportation directly correspond to the effectiveness of his overall message.
Time to Wake Up!