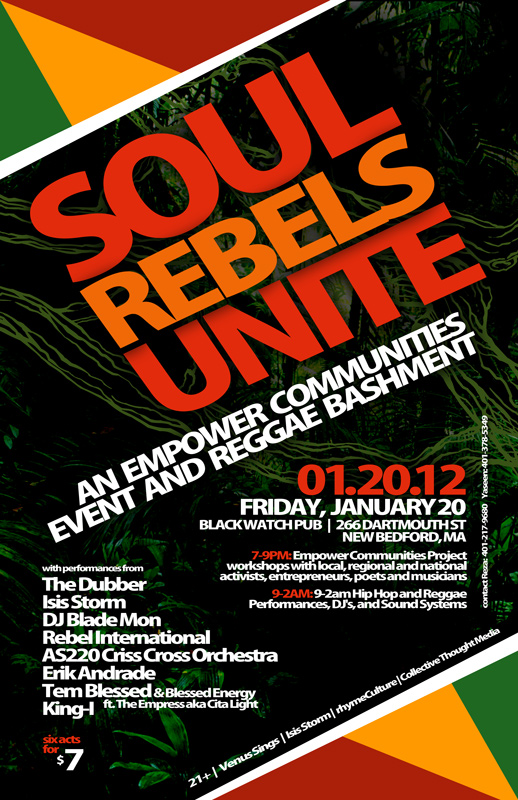 (RHODE ISLAND, MASSACHUSETTS) – If I were to describe some of the events I have coming up as political, I'm sure someone would ask me, "hey Reza, what is political about an event featuring spoken word poetry and world rhythms?"  This is the type of question I love to answer, though, sadly, few seem to find the courage to ask it.  Still, I think I want to spend a little time breaking it down for you.
Now, I hate to make this sound clichéd or ultra familiar in terms of the African-American experience, but, really, it's not clichéd; the transatlantic slave trade and American chattel slavery is where it begins.  Remember, this was (is?) a system and a series of policies that made reading and using native languages illegal; made breaking up families, forced breeding, and forced sterilization standard during different periods; and made identity and self-determination a muddled concept at best.  Family stories, national heroes, indigenous recipes – banned, marginalized, or high-jacked.  From these conditions, a people fought onward and moved forward, often in the form of Negro spirituals, blues music, and later hip hop.  In essence, if personhood, pride, and goal-setting could not be achieved through homeownership, the right to vote, or access to living wages, then it was through music, oral storytelling, and creating new (creole) sounds within which people of African-descent found courage and voice.
Today, we see challenges and struggles such as low high school graduation rates, exorbitant prison/probation rates, and disparities in healthcare access, treatment, and mortality rates – again, caused or condoned by this country and state's systems and leaders.  Therefore it is in the tradition of our ancestors, activists, and cultural rebels before us that "The Rhythm Heard Round the World" event happening tonight is, in fact, a political gathering.  There will be new spaces, new sounds, and new ways to communicate our stories and build community – strategies we are forced to return to again and again; a recipe that calls for a dash of politics and a sprinkle of art.
That is one of the reasons I'm so excited about another event I have coming up: Soul Rebels Unite: An Empower Communities Event and Reggae Bashment.  Don't tell me that a genre of music known for a song called "Legalize It" is not a place to discuss or engage in political conversations.  As I've explained to some: it is one thing to perform about smoking weed; it is another thing to write and sing a song asking people to mobilize, advocate and change laws.  This song, for instance, alongside others about unifying as a people to fight illegitimate governance are the subjects that make up the content of the reggae songs that launched the international appeal the genre has today.
So as I get ready to go out to do this musical-political work that I'm regularly engaged in, I ask those working on political and social change to take a peek at the events I have listed, and reconsider your stance about who and where you will or will not engage audiences.  Try analyzing things similarly to how I did above – tracing the historical perspective to trends we see today.  For the event on Saturday with Girls Rock! RI and Sojourner House, remember how long before women were granted the right to vote, observe the lack of women holding office today, and investigate the dismal number of women making decisions within the entertainment and communications fields.  Then tell me that there is no room for art in politics or no reason to mix the two topics.
If you still feel that same way – well, as Mr. T used to say, I pity the fool.  If you're open, or just want to debate me, I hope you'll join me over the next few days.
***
1) "The Rhythm Heard Round the World"
A Night Of Spoken Word Poetry, World Rhythms & An Open Mic
Thursday, January 19, 2012
7:30 – 10:00 PM
Roots Cultural Center
276 Westminster Street
Providence, RI
Price: $5.00
Presented by VenusSings.com, Isis Storm & Funda Fest 14, the event features Singer-Songwriter and Recording Artist, The Dubber; Pecussionist Kera Washington and Bassist Joanna Maria of the band, Zili Misik and performers from the women's art collective, Isis Storm. The event also includes talent from the RI Black Storytellers' Funda Fest.
To sign up ahead of time for the open mic, email singsvenus@gmail.com or leave a comment here.
FB EVENT / MORE INFO: https://www.facebook.com/events/243212192414449/
————————————-
2) VenusSings.com, rhymeCulture, Isis Storm & La Soul Renaissance Present
Soul Rebels Unite:
An Empower Communities Event and Reggae Bashment
Friday, January 20, 2012
Black Watch Pub
266 Dartmouth Street
New Bedford, MA
Confirmed Artists:
Tem Blessed & Blest Energy ft. the Empress, aka Cita-Light ~ Isis Storm ~ The Dubber ~ King-I ~ Erik Andrade ~ The AS220 Criss Cross Orchestra ~ DJ Blade Mon ~ Rebel International ~ and more.
12-2 PM:
Empower Communities Youth Workshop with YouthBuild New Bedford
7-9PM:
"People of Culture Mixer and Marketplace" with local, regional and national activists, entrepreneurs, poets and musicians
9PM-2AM:
Hip Hop and Reggae Performances, DJ's, and Sound Systems. PLUS album release party for "Re-Energized" by Tem Blessed & Blest Energy ft. the Empress, aka Cita-Light.
FB EVENT / MORE INFO: https://www.facebook.com/events/224041467674515/
————————————-
3) GIRLS ROCK THE SOJOURNER HOUSE: A JOINT BENEFIT FOR:
Girls Rock Camp Alliance & Sojourner House
And A Gathering for Empowerment
Saturday, January 21, 2012
7:00 PM – 1:00 AM
Roots Cultural Center
276 Westminster Street
Providence, RI
FEATURING:
-> Me Jane
-> Simple Etiquette
-> The Bookmarks
-> 5th Elament (CO-FOUNDER OF ISIS STORM)
-> ROUTE .44
-> JERI AND THE JEEPSTERS
FB EVENT / MORE INFO:
https://www.facebook.com/events/226863584050679/
Understanding The Intersection of Race, Music and Politics

,