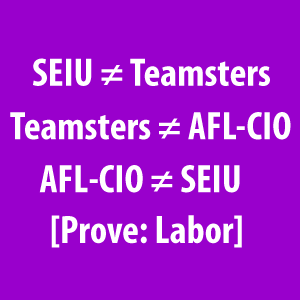 In several recent conversations about the gubernatorial race, people have talked about "the labor vote" going to this candidate or that. We often hear pundits and even reporters talking about "unions" as a monolithic bloc. Like thinking that all RI Democrats are equally liberal, seeing the labor movement as a single unit is deeply flawed.
The world is a complicated place. Many things, even contradictory things, can be true at the same time. Nor is it a zero-sum game. Just because something you like can be supported with evidence does not mean that the things you don't like cannot. As a rule, everything people say and believe is true…to an extent.
Unions are people, too, my friends
Like people, like the world, unions are a complicated mass of contradictory things. As conservatives claim, it is true that unions can sometimes act to shield incompetent or unproductive workers from scrutiny and accountability. But it is also true that unions can sometimes act to shield good workers from unscrupulous bosses.
In my experience, the latter is true far more often than the former. But for conservatives and their allies in the press, one example of union shenanigans invalidates a mountain of evidence that unions do critical, sometimes life-saving work. This has to end.
(Here, I will contradict myself in that the following is a zero-sum exercise. As I will prove that the union landscape in Rhode Island is complex and varied, I will simultaneously disprove that "labor" is a single, undifferentiated bloc. Deal with it.)
I cite as evidence the union endorsements for gubernatorial candidates in the 2010 election. Also, this will support my long-running assertion that the RI Democratic Party—that is, The Machine—is dominated by highly conservative people to the point that a former Republican was the "liberal" in that race.
The Teamsters union is not a progressive organization, and its members are mostly social conservatives. In 2010, they endorsed Caprio, the Machine's candidate. Caprio is nobody's progressive, nobody's liberal; he is a Democrat in name only. At the PPAC debate, the Teamsters turned out in numbers and set the ugly, partisan tone. Sitting in that highly-charged atmosphere, it was hard not to think of the phrase "union thugs."
The SEIU is the kind of union that proves we need unions. Service workers—and I was one for about 15 years—are some of the worst abused workers in the country. As a never-was rock star, I spent many years in commercial kitchens. It is dangerous work for bad pay. And bosses and customers frequently fail to distinguish between "service" and "servant".
In another career, I met a person in the restaurant equipment business. He told me that there is a trade term for restaurant workers: the burn-and-churn. Restaurant owners will consciously try to keep wages low by driving workers to their physical and mental limits, forcing them to quit or commit a fireable offense. Then they replace them from a large pool of unemployed workers and repeat the process.
The SEIU rightly endorsed Chafee. Even though Chafee was then an independent and recent defector from the GOP, he was by far the most liberal candidate. Virtually all progressives supported Chafee. Some, like me, did so openly. Others more integrated into the Democratic Party, could only work in the shadow or drag their feet in support of Caprio.
The AFL-CIO is a coalition of coalitions. It embodies the vast diversity in the labor movement. So it's telling that the AFL-CIO endorsed…nobody. Because Caprio and Chafee represented such distant political positions and because the AFL-CIO members find themselves equally divided between those two positions, the Grand Coalition could not achieve unanimity of purpose and issue an endorsement. They basically abstained from the campaign.
As goes the union debate, so goes the political debate
To review, the more conservative union backs the more conservative candidate and the more liberal union backs the more liberal candidate. And the broad-based coalition union can't decide.
This is what diversity looks like. Different people, different groups, different unions are, well, different.
It is unhelpful for people to talk about unions as if they were all the same. Conservatives do it specifically to make good unions look bad, tarring them all with the same brush, as the saying goes.
But members of the press—to whom this post is dedicated—do this because it's easy. Explaining complex issues is hard and takes a lot of words. Reporters are under deadline, and editors can't have long stories.
This is unacceptable because it has a real impact on the political discussion in Rhode Island. And Rhode Island desperately needs to have an honest, open discussion about our badly broke political system.
Let's start by changing the way we talk about the organize labor movement.