Unite Here Local 217 has taken the battle to unionize workers at two Providence hotels to another level with the unveiling of a new website, TPG Fails, extremely critical of The Procaccianti Group, (TGP) a "Cranston-based hotel developer and management company."

Unite Here local 217 has been engaged in a unionization effort at the Providence Renaissance Hotel and Hilton Providence for several years. Both hotels are managed by The Procaccianti Group, who have been relentless in fighting the efforts of employees to receive fair wages and decent treatment.
Subtitled "an independent investor information website posted by Unite Here," TPG Fails is a compendium of the company's bad investments, environmental disasters and "wasted opportunities."
For instance, under "Hotel Failures" the site lists three hotels TPG managed to lose millions of dollars on, resulting in delinquent loan repayments and multi-million dollar defaults.
Under "Costly Cleanups" we learn that "In 2008, The Procaccianti Group discharged its deed of 138 Hamlet Ave. in Woonsocket, RI. The site was built in the early 1900s and was primarily used as a textile manufacturing plant. The Procaccianti Group subsidiary FDS Industries, which stored office and hotel equipment, abandoned the site in 2001. The environmental concerns at this site include a variety of contaminants, including Volatile Organic Compounds, Semi volatile Organic Compounds, Metals, including Hexavalent Chromium, Pesticides, Herbicides, Polychlorinated Biphenyl, Lead, Asbestos, Fluorescent light ballasts, and other solid wastes." In 2008 Woonsocket was granted $200,000 in EPA funds to clean up the site.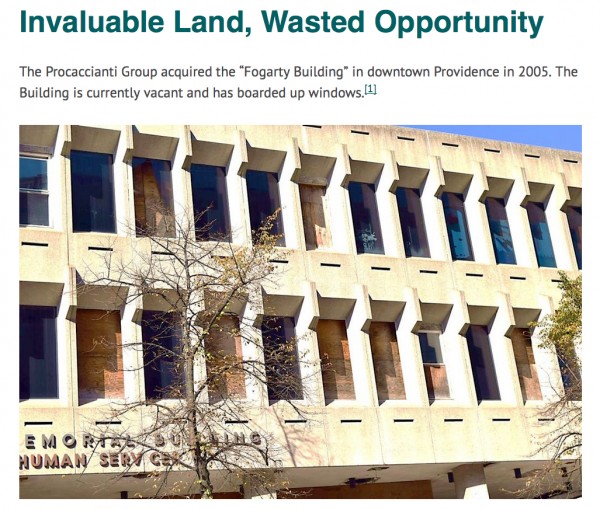 The new website paints an especially grim picture of TPG's environmental record. "In 2011, the Rhode Island Coastal Resources Management Council told Procaccianti subsidiary PBH Realty that it was in violation of six state freshwater wetland laws because of a man made pond PBH had made on a Jamestown property. Chris Powell, who was chairman of the Conservation Commission, said, 'I chaired the commission for 27 years and these are the most blatant and obvious violations I have ever seen.' Press accounts [here] and [here] state that after two years, the Coastal Resources Management Council accepted a 'compromise' restoration order."
Wasted opportunities include the boarded up Fogarty Building downtown, and a promised 22 story high rise, "Empire at Broadway" that is today a parking lot.
Every excruciating TPG embarrassment is sourced.
The goal of this website is to pressure TPG to negotiate with the hotel workers in good faith. "UNITE HERE Local 217 is in ongoing labor disputes with two Procaccianti Group hotels in Providence, RI," says their press release, "Fund managers should do their due diligence before partnering with The Procaccianti Group."
Unite Here Local 217 launches anti-Procaccianti website

,