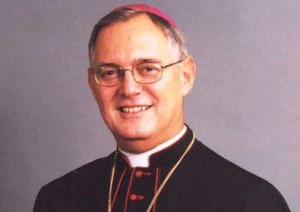 Bishop Tobin's blog might make more headlines, but a "broad and growing coalition" representing more than 100 clergy from 13 "welcoming and affirming faith denominations" is committed to passing marriage equality.
Rev. Gene Dyszlewski, in a press release, reminded Tobin that the law will still allow his religion to practice bigotry.
"Faith organizations that do not affirm same-sex relationships will in no way be required to do so when this bill becomes law," Dyszlewski said. "However, for those of us who do lead welcoming and affirming faiths, it will finally remove a long-standing obstacle to our pastoral care – and allow us to minister equally to all families in our community."
Tobin, of course, thinks the proposal is "immoral and unnecessary."
Tobin's screed demonstrates some basic confusion over the roles of religion and government: "The natural law, the Holy Scriptures, and long-standing religious tradition are very consistent in affirming that homosexual activity is sinful, contrary to God's plan."
And he immediately concludes from this that marriage between couples of the same sex "should never be encouraged, ratified or 'blessed' by the state."
Deriving public policy from the religious beliefs of conservative Catholic leaders is contrary to everything the United States in general and Rhode Island in particular stands for. At least Tobin put the word "blessed" into quotes, affirming that the Bishop understands that our secular government does not claim supernatural power and that any such "blessings" conferred are only metaphorical.
Near the end of his piece, he says that "If we are in fact forced to discuss the nature of matrimony in our state, it should be placed before the general public in a referendum… Let us vote!"
Those who value American principles will disagree with Tobin that human rights should be granted or taken away at the whim of the majority electorate, but a very recent and unscientific poll conducted by me sees "more than 100 clergy and 13 denominations" for marriage equality versus 1 Bishop and 1 denomination against. It seems to me that the religious question of marriage equality has already been decided by referendum.
The time for marriage equality in Rhode Island is now. Actually, the time was nine years ago, but it is not too late to catch up. Let's hope enough state Senators understands this.
Unofficial Poll: Most Clergy Support Marriage Equality

,