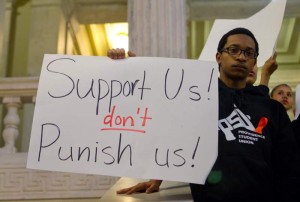 There are more than 4,000 local high school students in danger on not graduating because they didn't do so well on those standardized tests that kids have historically used to hone their art skills by filling in column of multiple choice bubbles for aesthetics rather than accuracy.
If you think it's a bad idea to base a 16-year-old's entire educational career on just one test, you aren't alone. An editorial in today's Providence Journal said there is an "uproar" over the new requirement. It even went so far as to say the uproar was "a good thing."
On this point, RI Future concurs.
Part of that uproar will be at Pilgrim High School today at 1pm "to call attention to the fact that 4,200 Rhode Island students are in jeopardy of not graduating from high school due to low NECAP scores," according to a press release.
Starting with the class of 2014, the test will be used to determine whether or not students will receive high school diplomas. The recently released results for the state's 11th graders showcase that this is not just an issue for the inner cities, but an issue for low, middle and upper income communities across the state, including the state's second largest city of Warwick.
The uproar hopes to General Assembly will repeal the new graduation requirement before it's too late. (Programming note for reporters and politicos: this will be a super hot issue at the State House as the session and the school year wind down.)
The ProJo editorial concedes the uproar has a good point.
…critics argue that NECAP testing fails to measure how good an education a student has achieved, and that such a regimen forces teachers to "teach to the test" rather than provide a rounded education. Fair enough. Is there a better, more practical means of measuring a student's educational attainment? If so, let us move to that superior testing system. Meanwhile, however, having no standards would only hurt students.
Everyone knows what that better system looks like: it's one in which urban and suburban students have equal access to a high-quality education. Once Rhode Island can implement such a system, then we can consider pass/fail final exams for teenagers. But to do so in the interim is to effectively punish the poor and reward the rich.