"They were saints in their own estimation, and more terrifying than any sinners I've ever encountered."
– Teresa of Avila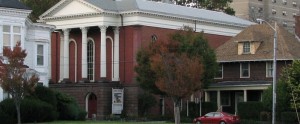 One of the scary realities is that evil is attractive. If evil wasn't attractive, no one would choose it.
Unitarianism is a religion with an inspiring history – going back to Eastern Europe, and the villages and cities caught between the Catholic and Muslims Empires of the Reformation where Unitarianism first grew. From Eastern Europe, the teachings spread, first briefly, to Poland, the Netherlands, than England. Unitarianism developed in the United States, India, the Philippines, and, today, Uganda. Yet, historically, in addition to our triumphs for free thought and social good, this faith has baggage. Mark Morrison Reed's book "Black Pioneers in a White Denomination," offers us some words of  caution and double take.
Over one hundred years ago, there was a preacher, originally from Jamaica, who began to doubt the Trinity, and found his way to Unitarianism. His name was Ethelred Egbert Brown. Brown had a vision of Unitarianism that wasn't limited to the fancy neighborhoods of Boston, but one accessible to all people -working people, people of color. He studied at Meadville Theological School in Pennsylvania, and through much effort, founded a small but active Unitarian congregation in Harlem. His efforts were shunned by the denomination, he received minimal financial or moral support. Reportedly, the President of the Unitarian Association would hide if he heard Brown was visiting the Boston office.
The Association, the powers that be, didn't think it a prudent investment to support a Unitarian church in Harlem. The guardians of Unitarianism thought they were being fiscally responsible. There is no Unitarian Church in Harlem today.
In the 1960s and 1970s, numerous American cities were in upheaval. The times were full of excitement, fear, demand, and hope. A politicized generation noted the glaring contrast in differing facilities and supports in neighborhoods, overcrowding and weak investment in schools, and growing demands for full civil rights were made against often crony prone city governments and aloof financial centers. This contrast produced tensions and changes. Highways were splicing and cutting against the skin of centuries old streets and houses, and tens of thousands of people were being relocated. In this context of upheaval, many urban Unitarian and Universalist churches closed, or relocated to the suburbs. "Why stay in the cities?" Many asked. "It's not prudent," some felt.
In Springfield, Mass, a 19th century Unitarian church voted to sell its property and move to the suburbs. The church was replaced with a parking lot. There is no Unitarian Church in Springfield today. Without the physical space, there is no community to gather and to heal.
Yet, not every city and every congregation chose to flee to the suburbs. In DC, currently home to one of the most diverse and successful congregations in the whole Unitarian-Universalist Association, a group of people at All Souls congregation had a vision. Located in the Mt. Pleasant neighborhood of DC, a group of board members had a vision for a large, vibrant, progressive, multiracial religious congregation. It wasn't easy. In fact, it took years. Yet, it happened. Generations of congregants joined together to build an active, progressive multiracial neighborhood congregation. All Souls has fed the hungry, helped the sick, and done the work of justice.
History doesn't move in a line. There are choices to be made. What type of congregation do we want to be? Do we want to be Springfield or All Souls?