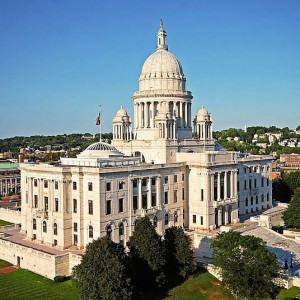 Long before the Occupy movement and Warren Buffett made the idea of taxing the rich politically popular, Rep Larry Valencia, a progressive Democrat from Charlestown, introduced just such a bill in the previous legislative session.
This year, although it hasn't received the media attention the Miller-Cimini proposal has, he introduced the same bill again. And, because he recognizes there still isn't a preponderance of political will to tax the rich in the fiscally conservative-leaning General Assembly, he said he'll do so again next year too, if need be.
"I think it's important to keep these ideas in the spotlight," he said. His bill, the model for the Miller-Cimini version but it doesn't include a reduction tied to the unemployment rate, will be heard by the powerful House Finance Committee this afternoon. Families earning more than $250,000 would pay an additional 4 percent on income above that amount and individuals would do so at $200,000. It would raise about $140 million for the state, he said.
While both Chairman Helio Melo and Speaker Gordon Fox told me earlier this session they don't support changes to the tax code this session (Valencia's bill didn't make it out of committee last year) some in leadership now do. Majority Whip Pat O'Neil, a Pawtucket Democrat and potential rival to Fox for the speaker's gavel, is a co-sponsor this year.
"I think we are slowly building a consensus," Valencia said, noting that he's picked up several additional supporters this session. "We know from national polls that people are sympathetic to the ideas of taxing high income earners at a higher rate."
Although he's a co-signer of the Miller-Cimini bill, he thinks his is better legislation because it isn't tied to the unemployment rate, which would cause fiscal fluctuations from year to year.