The nearly 100 people who crammed into Nick-a-Nees on a rainy Sunday afternoon in celebration and remembrance of activist Richard Walton were given quite a show. This was the third annual Red Bandana Awards show.
The awards are granted to those who embody the spirit and work of Richard Walton. This year's winners were Providence College Professor Eric Hirsch, a "tireless advocate for the poor and homeless" and the Providence Renaissance Hotel workers, who are fighting for "their right to decent working conditions and a living wage."
The Gnomes, a global folk-fusion band, opened the event with about a half hour of live music before being joined on stage by emcee Bill Harley. Harley gave a short talk about Richard Walton, and read one of Walton's emails to give a flavor  of the man, quoting him as saying, "I'd like life to be a hot hodge-podge of people of all sorts. All ages, all cultures, all colors, all everything."
Harley then segued into a remembrance of Sister Ann, the amazing "social justice activist" and founder of the Institute for the Study & Practice of Nonviolence who died earlier this year. Harley held a touching moment of silence that lasted about a minute before joking, "I think that's the longest it's been quiet at Nick-a-Nees." Sister Ann was considered for an award, said Harley, but the committee making the decision decided to keep it as an award for the living.
After a song, Harley gave the first award to the Providence Renaissance Hotel workers. Receiving the award were organizer Heather Nichols-Haining and Mirjaam Parada. For many years now the workers at the Renaissance and more recently the Providence Hilton have been battling The Procaccianti Group over wages, workload and the right to organize. Workers at these hotels are getting hurt on the job, and management treats them as disposable. The award recognizes the importance of organized labor and union rights.
Professor Eric Hirsch was then called to the stage to be presented his award. Hirsch, ever the activist, reminded the audience that he's involved in the Zero: 2016 effort to wipe out veteran homelessness by the end of this year and to wipe out chronic homelessness by the end of 2016. Hirsch asked everyone interested in this effort to go to rihomeless.org to find out what they can do to help.
Hirsch also reminded the audience that the school he teaches at, Providence College, recently had an event to deal with racial profiling and Renaissance Hotel boycott. After Hirsch received his award, the crowd was entertained by the Extraordinary Rendition Band, an appropriate choice, given their appearance in the viral "Joey Quits" video.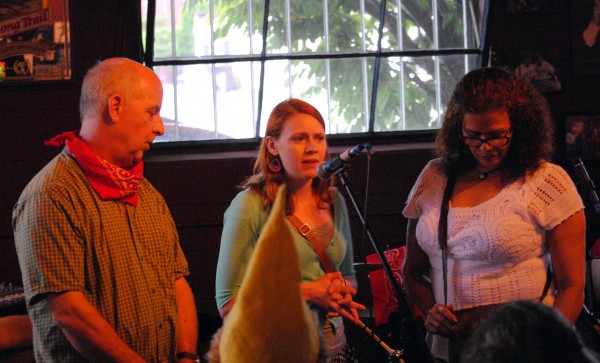 Video and pictures from the 2015 Red Bandana Awards

,