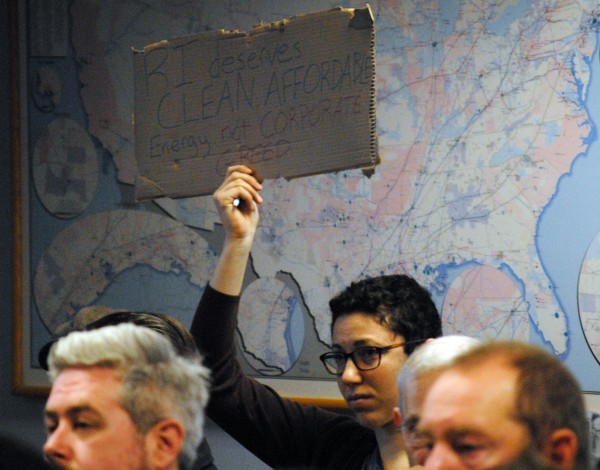 As economic inequality grows in Rhode Island, the messages being conveyed to our leadership in government is becoming simultaneously more radical and more pragmatic. People are beginning to make the connection between economic, social and climate justice, and the changes they are calling for are nothing short of revolutionary.
At yesterday's PUC (Public Utilities Commission) hearing on a proposed 24% rate hike by National Grid, state regulators heard testimony from 25 individuals, the vast majority of whom were outraged by the proposal. More than one speaker called the increase "unconscionable."
Many pointed out the record profits scored by National Grid last year, or the $7 million plus salary paid to National Grid CEO Steve Holliday, as proof that such an increase is unnecessary. Others talked about the effect this rate increase will have on the poor, the elderly and other at risk individuals. Virginia Gonsalves asked if the PUC regulators were comfortable making people "have to choose between eating and paying their utility bills."
John Prince, speaking on behalf of DARE (Direct Action for Rights and Equality) wondered if the PUC was simply a rubber stamp agency for whatever National Grid demands. "There's no justice in this facility. I hope this doesn't turn into a dog and pony show where we're all here and you'll just do what you'll do anyway."
Chris Rotondo, also from DARE, told the regulators that they are "being asked to subsidize National Grid profits," a theme amplified by Robert Malin of the Sierra Club, who said that in the current economic atmosphere, "We socialize the risk and privatize the profits."
The idea that this is already a done deal was a frequent refrain. "Why do you think National Grid has the balls, pardon my French, to ask for such an increase if they didn't think you would approve it?" asked one woman with the George Wiley Center.
It was Jann Campbell of North Smithfield who brought the revolutionary fire.
"We're facing a real spiritual and economic crisis in this country," she said, before demanding that the PUC subpena National Grid CEO Steve Holliday so that he might defend this outrageous price increase in person.
In response to the call for a subpena, the PUC board replied, lamely,"We don't have the  power to."
Undeterred, Campbell said, "People can only take so much until they can't take anymore." And she added, "The day people feel there is no redress will be a very scary day in Rhode Island."
The PUC will vote on the increase on Tuesday, December 23rd, at 9:30am in an open meeting at the RI PUC, 89 Jefferson Blvd, Warwick, RI. Think about attending, and let your voice be heard and presence be known.
You can watch Jann Campbell's full testimony below:
Catherine Orloff asked why, if National Grid needs this rate increase, they are still able to contribute to charitable events like Waterfire. As much as we all love Waterfire, she asks, should our utility bills be indirectly subsidizing such efforts? Orloff then went on to compare National Grid to PayDay loan companies.
An expert on the psychological impacts of poverty on children.
"I consider myself to be low income," said this speaker, "When this increase was suggested, I was terrified." She went to point out that "very rich people never have enough money."
"We need the opportunity to breathe."
One elder care facility will see an an annual increase of $90,000 in their electricity bill, another, in Portsmouth, will see an increase of $72,000, Kathleen Kelly. These are people on fixed incomes, in need of continuous care.
Some of the testimony was filled with righteous anger.
And of course, Santa Claus testified.
Robert Malin, of the Sierra Club
---
---
Support Steve Ahlquist!
Video: PUC protesters call for radical solutions to energy prices

,