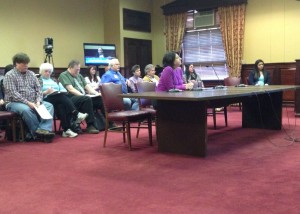 Last night the Senate Committee on Judiciary heard a full agenda of election bills.  You'll read a lot in the Projo and RI Future about the Voter ID repeal legislation Senator Gayle Goldin sponsored, and that deserves attention.  But there were a number of other really important pieces of legislation that are largely being ignored in the shadow of the fight over Voter ID.
One of the untold stories about the Voter ID fight in Rhode Island is that it has distracted us from making actual improvements to our election system that could have a direct and measurable improvement for voters. Just this week the Pew Center came out with a 50 state ranking of election administration.  While the average state improved 4.4 percent from 2008 to 2012 Rhode Island stagnated. So Rhode Island, which was once hailed by the Brennan Center as a leader in voter registration, is now losing ground.
Two of the other bills being heard last night would help us catch up:
S 2676 by Senator Gayle Goldin creates a system for online voter registration.  In 2008 there were only two states that allow voters to register to vote, or alter their registration, using an online tool.  As of last week, there are 22 states that have authorized such systems.  In states where online voter registration has been adopted tens of thousands of citizens have taken advantage.  Since we know that the more likely threat to election integrity are poor voter rolls, a system of online registration is the real way to reduce our dirty rolls and prevent registration fraud.  Here's the kicker; online voter registration not only makes it easier for people to register and change registration, but it saves cities and towns a ton of money.
S 2237 by Senator Erin Lynch creates a system of in-person early voting.  Currently 32 states have some sort of in-person early voting.  Rhode Island clings to a system from the 19th Century designed to accommodate an agricultural society where in-person voting only happens on Election Day.  Senator Lynch's bill would provide for evening and weekend hours accommodating citizens who lead 21st Century lives.  In recent years Rhode Island has shortened Election Day by an hour and increased the number of voters per precinct.  As the rest of the country makes advances, we retreat.  In-person early voting has even been cited as a way to help prepare for natural disasters such as Hurricane Sandy.
While it's right to be concerned about Rhode Island's Voter ID law, let's not forget there are a lot of areas where we need to make improvements.