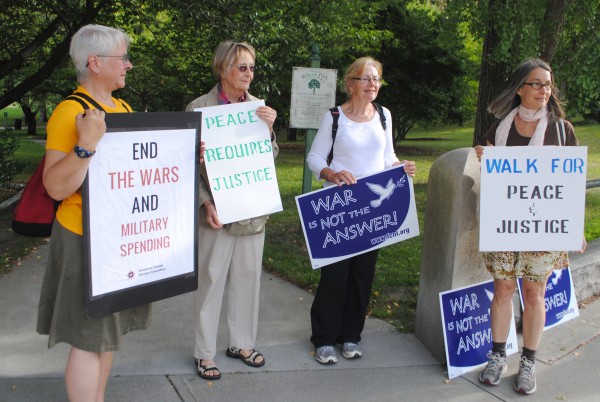 This morning marked the beginning of the "Walk Across Rhode Island for Peace and Justice" which began at Wilcox Park in Westerly. Inspired by the Little Rhody Peace March, the Great Salt March, the Flame Walk from Los Alamos to Hiroshima, the Dhammayietra through Cambodia, and Peace Pilgrim's walk criss-crossing America, this walk will take place over several days and end at the Wall of Hope near Waterplace Park in Providence on September 20. This walk is being organized by the American Friends Service Committee and is part of a month's worth of events centering on Peace.
Here is the schedule for the walk:
Thursday Sept. 11 we walk from Westerly to Charlestown.
Friday, Sept. 12 from Charlestown to Kingstown.
Saturday, Sept. 13 from Kingstown to North Kingstown.
Sunday, Sept. 14 from North Kingstown to Warwick.
Saturday, Sept. 20 from Warwick to Providence, where we join the mediation walk from Memorial Park (South Main st.) to the Wall of Hope (near Water Place Park).
Accodring to the organizers, "The walkers will be accompanied by a support vehicle that will carry backpacks, bed rolls, water and food. Each day we will walk about 10-12 miles. There will be plenty of rest stops along the way and folks can always climb in the support vehicle for a bit if needed. Each night we will gather for a dinner or potluck in a host church and have time in the evening for a program or for sharing with the local community about our walk. The host church will also offer sleeping space for those who want it."
I was at the park this morning to witness the start of the peace walk. The mood was optimistic and meditative. I felt the weight of President Obama's words the night before as the United States prepares to plunge once more into war.
There are better options.