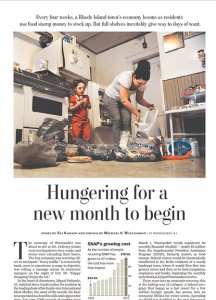 The big story on the front page of the Washington Post this morning is the same one we've been talking about all week locally: the SNAP program. But instead of looking into the couple dozen poor people who seem like they scamming the system, the Post took a different angle: a third of Woonsocket is on food stamps and the local economy ebbs and flows with as does their dispersal.
Read this important story here. 
Food stamps, not job creators, are driving growth there. In other words, the private sector has failed Woonsocket.
This is not a scoop. Rhode Island has known for a long time that the cities with a lot of factories are the places that suffered the most when factory jobs left Rhode Island. So now Woonsocket, Central Falls, West Warwick, Pawtucket and Providence – the cities with the most factories – are all failing.
I firmly believe this is the biggest reason for Rhode Island's economic mess and the most important issue facing the state. Not pensions or payday loans. Not high-stakes testing or binding arbitration. Not equitable taxes on businesses or their CEOs. Not welfare fraud and not corporate welfare. And not even the master lever or marriage equality.
I think Ken Block would do Rhode Island a great service by asking Chafee if he could use his considerable efforts and energy to look into why one in three people in Woonsocket can't afford to feed themselves and why public sector assistance programs are driving the economy there.
WaPost Investigates RI SNAP Benefits Too

,