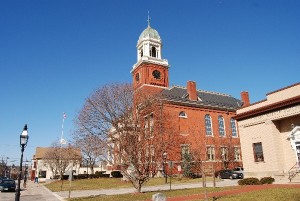 The Warwick City Council last night became the latest to endorse marriage equality. By doing so, the Council joins a very long list that includes mayors, municipalities, churches, religious leaders, the governor, the House of Representatives and a majority of Rhode Islanders. In other words, pretty much the entire state except the Catholic Church and the state Senate.
"We deeply appreciate the Warwick City Council's endorsement of the marriage equality legislation sponsored by Senator Nesselbush," said Ray Sullivan, the campaign director for Rhode Islanders United for Marriage. "Along with similar resolutions from the Providence and East Providence councils, and the support of the mayors of Central Falls, Cumberland, North Providence, Pawtucket, Providence and Warwick, this is a powerful demonstration of strong grassroots support for allowing all loving, committed couples the freedom to marry in our communities."
Thanks in part to a strong outreach effort by the Warwick Progressive Democrats, a new liberal coalition in the West Bay city, the Council unanimously adopted the resolution.
This is a great day for Warwick," said Jeremy Rix, the city coordinator of the Warwick Progressive Democrats. "A unanimous city council has resolved that all people, regardless of sexual orientation, are entitled to the legal rights and social recognition of marriage, and urges the passage of Senate Bill 38. Thank you to the city council, the dozens who attended and shared personal stories and information on legal rights, and all who have contributed toward this moment through acts as small as discussing the need for equality with a previously unconvinced acquaintance."
According to the Providence Journal, some 70 people showed up for the debate. For comparison, the local media highlighted that some 100 people attended a hearing on the master lever at the State House last week.
The ProJo reported on Monday that the state Senate may soon leave the Catholic Church as the last big local institution to oppose same sex marriage – or, at least, Senate President Teresa Paiva Weed said she would allow the issue to come up for a vote this month.
Warwick City Council Endorses Marriage Equality

,