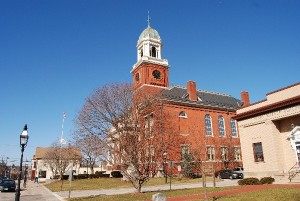 The Warwick Progressive Democrats will be holding and promoting a series of non-partisan neighborhood meetings this summer, to increase Warwick residents' access to local politics through speaking directly with their city councilors, state reps, state senators, school committee members, and other officeholders.  In preparation for these neighborhood meetings, we are proud to host a meet & greet and volunteer training event.
The meet & greet, beginning at 1:30, provides a networking opportunity for volunteers and officeholders, and an opportunity for officeholders to discuss and coordinate their availability.  Maps will be available to show which precincts are shared.  The volunteer training, beginning at 3:00, provides the "how to" knowledge which volunteers will need, and will answer questions on requirements for the community organizing internship program. All are welcome to attend the training, whether they are considering volunteering for a few hours, or the fifty hours required to qualify for the internship program, as approved by the Roger Williams University: School of Law office of career development.  While any amount of time volunteered is welcome, all who properly log fifty or more hours, through a combination of promoting, setting up, or other work towards the neighborhood meetings, qualify as completing the Warwick Progressive Democrats' internship program.
All interested in volunteering, as well as all Warwick officeholders who wish to be invited guests at a non-partisan neighborhood meeting, are welcome to attend. Party pizza (bakery style pizza) from Cosmic Pizza will be provided. Please RSVP here on facebook to help provide an accurate count:  https://www.facebook.com/events/575570709140366/
We also welcome you to like our facebook page:  https://www.facebook.com/pages/Warwick-Progressive-Democrats/600028130013952
This event is in the Warwick Public Library's "Large Meeting Room" (directly off the main hall when entering the library) on Saturday June 1, from 1:30-4:00. (Meet & Greet 1:30-3, Volunteer Training 3-4.) We hope to see you there!
Jeremy Rix
City Coordinator, Warwick Progressive Democrats