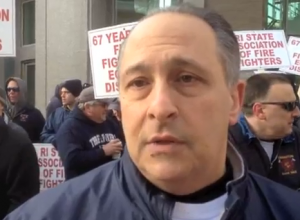 Probably a big point of contention as Rhode Island and its public sector retirees try to mediate a compromise on pension reform will be whether or not organized labor was considered when drafting the legislation.
As few hundred Providence fire fighters, police officers and other public sector union members protested outside a conference for Bond Buyers in downtown Providence today to call continued attention to pension cuts that hurt members' retirement security, there were some different opinions on this matter.
Inside the conference, General Treasurer Gina Raimondo was telling the room full of bond investors that, "In Rhode Island this was never about Democrat versus Republican, union versus management, labor versus management us, vs them."
It struck me as odd that Raimondo said pension cuts didn't pit public sector retirees against taxpayers.
Especially since Paul Valletta, of the Providence fire fighters union, said they are protesting every public event Raimondo appears at because they weren't at the table.
Here's what Valletta told me outside:
Inside the conference, Gina Raimondo disagreed with this characterization.
So I asked Governor Chafee, who also spoke at the Bond Buyers conference, to break the tie.
I attended many of the public meetings Chafee and Raimondo held with labor leaders physically at the table. Those public meetings were not where the substance of the actual pension cuts were crafted. That likely happened behind closed doors between Raimondo and legislative leaders before the special session in November of 2011.
Was Labor 'At The Table' For Pension Legislation?

,