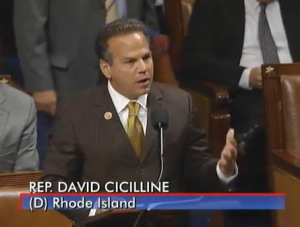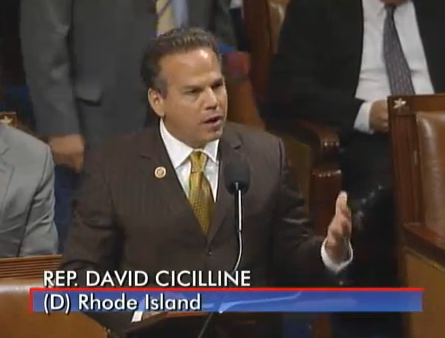 Last Thursday, David Cicilline cast one of his best votes in Congress, voting against the latest budgetary assault on economy.
It is not easy to defend the austerity "deal" struck between Paul Ryan and Patty Murray.  On its face, it looks bad.  In exchange for $85 billion in austerity, this deal would pare back $65 million of the sequester cuts.  That is what Democrats get.  (Remember how the sequester cuts were supposed to affect Republican and Democratic priorities equally?)
The austerity measures do not include any Democratic priorities like closing tax loopholes for the rich or large corporations.  Instead, the most prominent provisions are pension cuts for federal workers and a big hike to air travel fees.  Of course, there is also the usual mess of blatant right-wing giveaways, like opening more of the Gulf of Mexico up for offshore drilling.
In many ways, this is the sort of "deal" we have come to expect.  Any stimulus must be paired with steeper austerity.  For those of us who believe that we should be passing a jobs bill and fixing the economy, it is a disappointment we have become sadly accustomed to.  Since the 2010 elections, we have been losing the broader budgetary battle–and losing it spectacularly.
None of this is the main reason Congressman Cicilline voted no.  For there is something much worse about this deal–it does not extend benefits for the long-term unemployed.  As the Congressman put it so eloquently on the floor of the House, "just three days after Christmas, 1.3 million Americans struggling to find work will be immediately thrown out into the cold and lose their unemployment assistance, including 4,900 Rhode Islanders."  To put that in context, nearly as many Rhode Islanders will lose unemployment benefits as the 6,500 Rhode Islanders Gordon Fox threw off of Medicaid this year!  It is easy to see why Nancy Pelosi had to resort to "embrace the suck" as her main argument for voting yes.
While some may fantasize that passing the budget deal will not kill any shot at passing Senator Reed's bill to extend benefits (which Senator Whitehouse has cosponsored), it is hard to see the House passing it outside of a deal.  Make no mistake, a vote for the budget deal is a vote against unemployment insurance.  David Cicilline has the sense to recognize this.  His no vote on this dangerous deal might just be his best vote yet.
Was this David Cicilline's best vote yet?

,