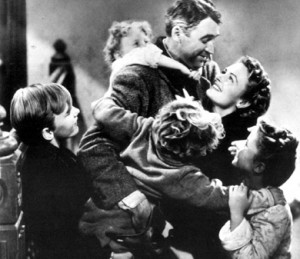 This is my Christmas present to everyone who has ever been overcome by stress during the holiday season and also to all the progressives who works so hard at making Rhode Island a better place. George Bailey got the holiday blues too, and he even doubted his own tremendously beneficial influence on Bedford Falls.
Happy holidays and I hope you enjoy the movie … it's my all-time favorite.
George Bailey's famous speech about community:
Just remember this, Mr. Potter, that this rabble you're talking about… they do most of the working and paying and living and dying in this community. Well, is it too much to have them work and pay and live and die in a couple of decent rooms and a bath? Anyway, my father didn't think so. People were human beings to him. But to you, a warped, frustrated old man, they're cattle. Well in my book, my father died a much richer man than you'll ever be!
And his even more famous speech on the economy:
You're thinking of this place all wrong. As if I had the money back in a safe. The money's not here. Your money's in Joe's house…right next to yours. And in the Kennedy house, and Mrs. Macklin's house, and a hundred others. Why, you're lending them the money to build, and then, they're going to pay it back to you as best they can. Now what are you going to do? Foreclose on them?