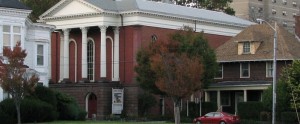 Sally Gabb, a member of the Chapel's Worship Committee, reflects on the "primary metaphor" within human culture – weather.
Did you enjoying this weekend of 50 degree days? How do we all feel after this season of icy cold and snow? How does winter affect you – do you get down from the darkness? When spring weather arrives with it's introduction of light and warmth, does your mood automatically lift, do you get up in the morning with a smile rather than a groan?? As an April baby, I have always found that spring, and spring weather give me energy and hope.
Weather is probably the most common of human experiences. It affects us all. And because of this, it is the primary metaphor for our thoughts and beliefs about life – including our spirituality. Metaphor is such an important part of our thinking process because much of our experience can't be explained concretely or literally. This is especially true for our spiritual thinking, our spiritual beliefs.
As Sam Keen points out in Hymns to an Unknown God*:  "Language which authentically describes a spiritual experience transcends verifiable knowledge and is very imaginative, poetic, metaphoric and inexact. It is language stretched to the breaking point. In speaking about spiritual matters, we are always beating around the bush, albeit a burning bush."
Of course, major metaphors in spiritual discussion refer to weather, darkness and light,  storm and clearing.
In discussing weather metaphors and spirituality, Simon Jacobson of the Meaningful Life Center wrote on the MLC blog:
"Snow is an intermediary state between fluid water and solid ice. In order to appreciate the spiritual implications of this, we need to examine the properties of snow.
A snowflake needs at least two components in order to form. In addition obviously to cold air, it requires water droplets (vapor), and a nucleus. The nucleus is made up of dust, minerals or other microscopic particles in the air.
A snowflake is formed when water takes shape around these microscopic particles and the cold air turns it into ice crystals.
Thus snow has two components: water and earth – earth being the particles, and the water being the droplets. Earth is the material world – without any recognition of G-dliness; water is the knowledge of G-d – divine energy without any containers. Thus snow, being half heaven and half earth provides the perfect intermediary between these two worlds."