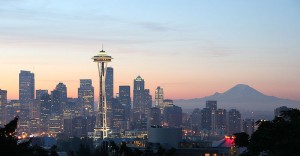 Seattle, like Rhode Island, sunk a healthy chunk of its pension investment into hedge funds.  And here's hoping the Ocean State's 14 percent foray into these riskier alternative investments works out better than the 8 percent gamble did for the Emerald City.
From Sunday's Seattle Times:
Shorn of its complexity, the story reads like a financial soap opera.

A decade ago, the pension system for 16,000 current or retired city of Seattle employees invested $20 million in an offshore hedge fund. The secretive hedge fund's managers made big loans to a prominent Minnesota businessman at extremely lucrative interest rates. Only one problem — he turned out to be running a huge Ponzi scheme.

Officials overseeing the Seattle City Employees' Retirement System (SCERS) are still paying lawyers to disentangle the resulting mess.

The money they entrusted to Epsilon Investment Management remains in limbo. And the plan has even become ensnared in litigation by the trustee for the Ponzi scheme's victims.

While no retirement payments are jeopardized by this single deal gone awry, it is a stark reminder of the trouble pension funds can get into by chasing high returns through untraditional investments.
What do Seattle, RI pension plans have in common?

,