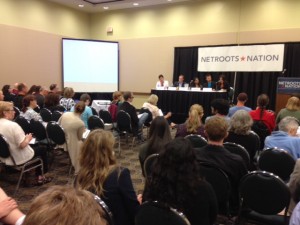 I stumbled across our editor Bob Plain at Beyond Occupy: What Does a New Economic System Look Like? which took place at 10:30 AM. Bob was unfortunately trying to coordinate with David Pepin on the budget live-blogging, leading to some furtive discussion on his cellphone that eventually attracted a few stares before Bob went outside. The panel discussion itself was somewhat disappointing. I was hoping for an articulated view of a new economic system. It was moderated by Jenifer Fernandez Ancona of the Women Donors Network; and features Sarita Gupta (Executive Director of Jobs With Justice), Simon Johnson (Professor at the Massachusetts Institute of Technology's Sloan School of Management and former Chief Economist at the International Monetary Fund), Colin Mutchler (CEO and co-founder of LoudSauce), and Erica Payne (Founder and President of the Agenda Project).
As I said, if I was expecting a sort of map of how a new economic system is supposed to look, this was not it. Despite an early statement about this discussion being titled "Beyond Occupy" due to the fact that Occupy changed the nature of discussion but needs to articulate a vision, no such vision came forward. There were some interesting turns of phrase. Mr. Mutchler seemed to have the clearest vision of what an economy should be organized around: happiness. A commenter from the audience seemed to support that, but undercuts their own authority by saying that happiness is in the Constitution; it's not. Ms. Ancona said that ultimately what happens are two competing views of the economy: that of the right which views it as a natural force and that of the left that views it as a human-created force.
Most surprising was the fact that labor was de-emphasized here. At one point, Ms. Ancona turned to Ms. Gupta and said, "I don't think I imagine a future with labor." Ms. Gupta was somewhat tepid in her response, saying that the labor movement in America was too concerned with its specific members and hadn't grown out of a class conscious movement. Which is both right and wrong. But it's about what you'd expect; the "netroots" is largely non-union, who understand a union in theory but don't feel the need to associate with the labor movement. It goes to show, "progressive" is a wide-open term.
While ultimately a "new economic system" doesn't come forth (Erik Loomis of Lawyers, Guns and Money criticized this discussion as "5 people talking about the greatness of slightly reformed capitalism" on his Twitter feed), I think Mr. Mutchler was the most on the ball when he said that we're living in an era where institutions (like big banks and even democracy) are breaking down; but that below the surface, new innovations are taking place. But there was no real takeaway here.