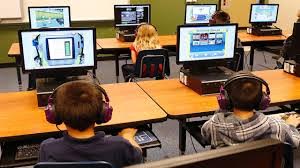 Something sinister has been happening to public education in America for the last decade or more. Billionaires such as Bill Gates, Eli Broad, and the Walton family have poured their fortunes into remaking our public schools and our public school students into what they envision will be good for multi-national corporations such as Pearson, Microsoft, McKinsey, and IBM. We saw this clearly with the Common Core State Standards and accompanying testing, with the bulk of the funding for the drafting, promoting, and implementing of the Common Core coming from the Bill and Melinda Gates Foundation. Now that there has been an (unexpected?) hue and cry about the over-testing of our students, here comes the antidote: competency/proficiency based education, aka personalization, aka student-centered education, and community partnerships. While this sounds on the surface like a welcome relief to the one-size-fits-all standardization of curricula and high-stakes standardized testing, it comes with its own pitfalls.
A perusal of the new "RI Strategic Plan for Public Education: 2015-2020" (http://media.ride.ri.gov/BOE/BOE_Meeting_102815/Encl6a.pdf), recently approved by the RI Board of Education, turns up a number of appealing-sounding but troubling buzzwords: personalized instruction, one-to-one computer technology, blended learning, online learning, community partners outside of the school, and particularly, proficiency-based instruction and assessment. In an ideal world, these buzzwords could be a refreshing approach to teaching and learning in a dazzling world of opportunity through technological advances. Very unfortunately, we do not live in an ideal world.
We need only look as far as the state of Maine to see what the ugly reality of competency/proficiency based education looks like in real schools with real students and teachers. Maine has plunged ahead with this agenda, helped along with money from the Nellie Mae Education Foundation (a grantee of the Bill and Melinda Gates Foundation), though there is no research (peer-reviewed or otherwise) that justifies transforming teaching and learning into a digital/online enterprise. Emily Kennedy Talmage is a teacher in Maine who has researched the roots of this agenda and written extensively about it in her blog, and it is unnerving. (http://emilytalmage.com/2015/04/26/save-maine-schools/) My take is that the PR for so-called proficiency based, personalized learning is riddled with code words that translate into outsourcing education to ed-tech vendors and "community partners," marginalizing classroom teachers, holding students accountable to pre-determined, inappropriate standards (Common Core or Core-like), not allowing them to progress until they have achieved "mastery" of these inappropriate standards, feeding them game-like academic programs that foster zombie cognitive processing rather than real learning, and using extrinsic motivation like rewards and badges, all the while scooping up reams of sensitive data that will go who knows where and be used for who knows what.
While co-opting the language of the Civil Rights Movement with terms such as Equity and Opportunity, those pushing this digital innovation agenda are not sending their children to this brave new educational world. Private school students will still have small classes valuing interaction between teachers and students and students with peers, and rich curricula with the arts, languages, history, and social studies. Other people's children will be seated at computer terminals, isolated from each other, eyes focused (or not) on screens which will be adjusted second by second to their keystrokes, the data siphoned off into cyber-space. (By the way, the federal Department of Education, the supposedly secure place where all public school students' personally identifiable information will be channeled via the Statewide Longitudinal Data Systems, recently received a very poor grade for data security from the Office of the Inspector General.)
We need to ask Cui bono? Is this rush to digital learning truly for the benefit of the overwhelming majority of the children in America who attend public schools? Or is it a bonanza for the hedge funders and edtech entrepreneurs who will rake in an exorbitant amount of money directly or indirectly on learning modules of dubious quality?
What is 'competency based education'?

,