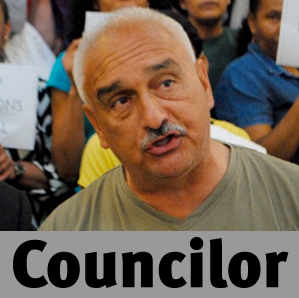 When RI Future first broke the story of Marcus Mitchell's write-in campaign, the mainstream media wouldn't give it so much as a mention. But on the Wednesday after the election, it was big, big news. Ahead by a mere 22 votes in the "machine count," Mitchell would ultimately lose to the incumbent Kevin Jackson on the mail-in ballots.
Regardless of anybody's opinions of either candidate or their campaigns, we all should recognize that we have witnessed a near-historic exercise in the power of electoral participation. As I have written repeatedly, candidates running unopposed in the primary and/or general election are the hallmarks of a political machine, and political machines destroy communities.
Whether you like it or not, a large portion of Ward 3 made a powerful statement that they were dissatisfied with Jackson's leadership and wanted a new voice. That portion of the ward proved just smaller than those who supported Jackson. And that's how it goes in an electoral government.
The question now is: how will Jackson respond to the uprising against him?
Respond or retaliate?
There was a sense in the final week leading up to the election that the real winner in Ward 3 would be Ward 3. Suddenly faced with a serious challenge, Jackson remembered that there was a ward to be taken care of. Seemingly overnight, all the dangerous trip hazards that had lingered for many years on the commercial section of Hope Street were fixed.
But now that we've all recovered from the euphoria and/or depression and/or hangover, it has occurred to some in the Mitchell camp that rather than responding to their long-ignored issues, Jackson may chose to retaliate against those who opposed him. He was Cianci's co-chair, the thinking goes, and we all know how Mr. Cianci dealt with such issues.
So far, I have heard nothing either way, nor was I out looking for it. This man does not live by politics alone. Were I one of Jackson's advisers, my counsel would be to win over his detractors by acting on their behalf…you know, like an elected representative. Four years is time enough to heal the wounds and rebuild the coalition.
Conversely, those opposed to Jackson may well be wondering why they didn't challenge him earlier. The conventional wisdom was that his stronghold would prove unbreakable. But if a last-minute, write-in candidate can take him to a hand count of the mail-in ballots, imagine what a proper campaign for the Democratic primary could achieve.
Jackson likely knows this as well. At a certain level, it doesn't matter what he does over the next three-and-a-half years. If I were a gambling man, I would bet folding money that there will be a Jackson-Mitchell rematch in 2018 and this time for the Democratic primary.
Just like with the Mitchell write-in campaign, remember, readers: you heard it here first!
What next in ward 3?

,