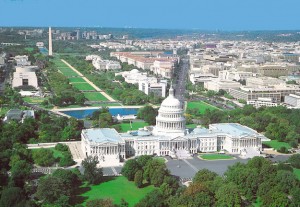 One of Clean Water Action's core missions is to make democracy work. The cornerstone of this strategic focus is to hold our elected officials accountable to voters. A crucial problem underlying many pollution problems, we believe, is an imbalance of political power that distorts our political system and hampers good policy.
The protection of the environment, investment in the renewable energy economy and reduction in power of special interest takes strength in numbers. This holds true in Congress as well. For that reason, candidates must be judged in context of who they will call friends. Our Congress has few green-blooded environmentalists left.
First District, First:
 [The Infrastructure Jobs and Energy Independence Act] dedicates revenues from new energy exploration to slash our deficit, build clean-coal plants, clean up our air and water, increase our use of renewable energy, and rebuild our crumbling highways and bridges.
Not so bad. Though "clean-coal" is a fairy tale. There is as much clean coal in our nation as there are glaciers inFlorida. Even President Obama, endorsed by by CWA, Sierra Club and Environment America, has swallowed this pill in order to win Ohio.
 …with gas close to $4 a gallon, it is time to end our addiction to foreign energy. David has been working hard to rein in excessive Wall Street oil speculation, which many experts agree is part of the rising price consumers are paying at the pump. David is also focused on the long-term energy independence of our nation. The only way to get gas prices down in the long run, while also helping improve our environment, is to support the development of renewable energy and advanced vehicle technologies.
It isn't hard to be an environmentalist in Rhode Island. It is a single fishing trip off Point Judith, kayak tour of Narrow River, spring hike in Lincoln Woods or daring leap off the cliffs at Beavertail. Every Rhode Islander connects quality of life with the environment. Every Rhode Island Congressman goes to Washington. Folks in that town brought us the Safe Drinking Water Act and then exempted hydraulic fracturing chemicals from its oversight.
Doherty will claim to reach across the aisle if elected. Scott Brown said that too. A New England Republican might do so in support of environmental protections, see John Chafee and Mitt Romney v. 1.0.  Sen. Brown's F on the most recent environmental report card indicates otherwise. This Congress took 297 votes to weaken public health and environmental protections. On which side of that aisle will Doherty sit? I think we can keep our support with Cicilline, he's already spent two years supporting the environment.
Instead of canned website statements, let's look at the 2nd District's first debate. The environment was finally addressed with this interesting question (start at 51:00). Arlene Violet asks:
 Mr. Riley, on your website you say entitlements should be paid for by 'revenue ideas' not taxes to shore up the safety net. Specifically, what 'revenue ideas' or projects would you implement.
To which Riley responds:
 The revenue ideas I identified in the Riley plan have to do with the huge amount of federal lands that we own. As citizens we have assets, and we have liabilities. That is how you would look at the balance sheet of America…you and I, and everyone in this room, has a share in the land. Under these lands are a vast quantity of gas, oil, whatever, rare minerals, rare earth minerals, those kinds of things, which are laying fallow. We're not using them. We're not selling them. We're not lending out royalty rights. Not doing leasing rights. That revenue is not coming in. That should be coming in to help pay down those areas like entitlements where we have underfunded them. Why do we always assume that we gotta to go and tax the richest guy we see? Why don't we actually utilize our balance sheet and bring dollars in for everyone and pay down the problems?
I had to pick my jaw up off the floor. Langevin, after the question is changed to coal and fracturing, returns:
 I don't believe there is such a thing as clean coal. Coal is a dirty fossil fuel and we have to get ourselves off our dependence on fossil fuels in general. In the short run I think we should explore and use utilize all of our energy resources… The real future of controlling our energy costs is developing alternative energy sources, whether it's winds, solar or biofuels, and by the way, that's a real jobs opportunity for Rhode Island. We could be the first state in the country to have a first, functioning wind farm off our coast. Those wind turbines would be built in Quonset-Davisville, in my district… If we are the first, we'll be a hub for building these up and down the east coast and that's real jobs for Rhode Island.
Langevin gives the best answer of the night. Clean coal is a myth! Build wind turbines at Quonset Point. Let's get Block Island off diesel generators. Sounds better than leasing the Everglades.