It's time to take a look as some of our General Assembly candidates. Rhode Island's universal support for the environment keeps it out of the ProJo and off the 11 o'clock news during campaign season. That doesn't mean the voters should forget our November 6th choices will chart Rhode Island's path for the next two years.
Lately, the Rhode Island Public Transit Authority has been a political hot potato. One freshman legislator, however, comes to mind as having the spine to fight for the fiscal health of RIPTA despite the risk—Representative Jay O'Grady (HD 46 Lincoln, Cumberland) sponsored legislation in both 2011 and 2012 to get RIPTA off of its failing gas-tax funding and create a more sustainable source of funds for public transit in our state.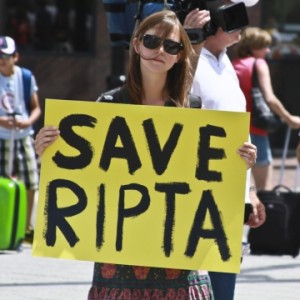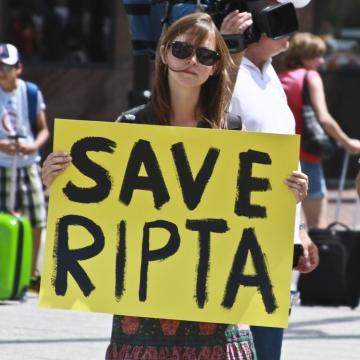 Rep. O'Grady is one of the many that know that a reliable, extensive transit system is a win-win-win.  Keeping cars off the road and carbon out of the atmosphere is a key step for the environment.  It is also a key piece of our economy. 
Businesses like to go
where their workers like to live, and reliable, accessible, affordable transit service is high on the list of things skilled workers want in their communities.  At a much more basic level, transit availability makes it
possible for lower income people to have jobs at all
. Most Rhode Islanders live within a quarter-mile of a RIPTA stop, and it is sure a lot cheaper than $4/gallon fuel.
Rhode Islanders understand that the metaphorical "business climate" is supported by protecting the literal, actual climate.  And it is becoming increasingly difficult for climate change deniers in this state to make their case.  Never mind what the IPCC says or the latest scientific models—here in the Ocean State we can directly see the impacts of climate change in a very real and tangible way—particularly when it comes to sea level rise.
The slate of candidates endorsed by Clean Water Action this election are, as always, smart legislators who understand how to act at the nexus of environmental, public health, economic and social policy—whether it's Representative Handy working to protect children from lead poisoning; Representative Tomasso pushing for renewable energy projects in Coventry; or Representative Tanzi fighting for transportation choices in South County.  These candidates understand that protecting the environment isn't at odds with or secondary to economic development. It is instead the foundation of it.
Check out our full slate of endorsed candidates here.