Today through Frday I'm going to put up a couple of posts about how our environment is going to be impacted by what happens on November 6th. With all the talk about jobs and the economy, I am continually surprised that so few are connecting these topics to the invaluable strides our nation has made in protecting our rivers, drinking water, air, oceans, parks, mountains and beaches over the last half century.
The economy is more than unemployment numbers, GDP and stock prices; it is a measure of our quality of life and participation in society. Let's start looking at some of the issues that will have a profound impact on our economy and way of life in the future.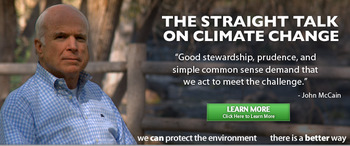 First, let's take a quick trip in our "Way-Back" machine. Clean Water Action hard-wired it into all of our office computers a couple years ago. It is a useful tool for providing some context for the campaign rhetoric we are forced to consume every four years.
Here is an excerpt from a May 2008 speech by The Maverick, John McCain:
We stand warned by serious and credible scientists across the world that time is short and the dangers are great. The most relevant question now is whether our own government is equal to the challenge… In the years ahead, we are likely to see reduced water supplies…more forest fires than in previous decades…changes in crop production…more heat waves afflicting our cities and a greater intensity in storms. Each one of these consequences of climate change will require policies to protect our citizens, especially those most vulnerable to violent weather.
What a prediction! Can you imagine a Republican Presidential nominee uttering such words? But would he propose a solution to such a national issue?
 To lead in this effort, however, our government must strike at the source of the problem… We know that greenhouse gasses are heavily implicated as a cause of climate change. And we know that among all greenhouse gasses, the worst by far is the carbon-dioxide that results from fossil-fuel combustion… We will cap emissions according to specific goals, measuring progress by reference to past carbon emissions. By the year 2012, we will seek a return to 2005 levels of emission…by 2020, a return to 1990 levels…and so on until we have achieved at least a reduction of sixty percent below 1990 levels by the year 2050… And in pursuit of these objectives, we cannot afford to take economic growth and job creation for granted. A strong and growing economy is essential to all of our goals, and especially the goal of finding alternatives to carbon-based technology. We want to turn the American economy toward cleaner and safer energy sources
Doth my eyes deceive? Was that a plan to address carbon emissions? How would a Democrat respond to such specifics? An upstart Senator from Illinois said this:
And in the long-term, few regions [speech was in Miami] are more imperiled by the stronger storms, higher floodwaters, and devastating droughts that could come with global warming. Whole crops could disappear, putting the food supply at risk for hundreds of millions. While we share this risk, we also share the resources to do something about it. That's why I'll bring together the countries of the region in a new Energy Partnership for the Americas. We need to go beyond bilateral agreements. We need a regional approach. Together, we can forge a path toward sustainable growth and clean energy. Leadership must begin at home. That's why I've proposed a cap and trade system to limit our carbon emissions and to invest in alternative sources of energy. We'll allow industrial emitters to offset a portion of this cost by investing in low carbon energy projects in Latin America and the Caribbean. And we'll increase research and development across the Americas in clean coal technology, in the next generation of sustainable biofuels not taken from food crops, and in wind and solar energy.
Perhaps I am complicit in my own deception. It appears that our two major Presidential candidates, only four years ago, ran on a shared a platform to address climate change. The halcyon days of 2008.
Despite my dismay that President Obama has maintained radio silence on how he will reinvigorate the debate around a cap-and-trade system and reducing carbon emissions, the President has taken action to warrant a reelection endorsement by the environmental community. A short comparison of President Obama and Governor Romney provides the following:
The President is only one piece of the puzzle. We need a U.S. Senate that is willing to take action. Addressing climate change is not just about wind turbines and solar power; it is about protecting American people and society. Weather patterns are continually more hostile for a much of American and global temperatures continue a steep rise, threatening our ocean and marine habitats. It is for a new path.
Take a minute (or 38 of them) and listen to Senator Whitehouse. I would not have said it better myself. Let us pull out a couple key points made by the Honorable Senator from Rhode Island:
Human actions have resulted in warming and acidification of the oceans and are now causing increasing hypoxia. Acidification is obvious — the ocean is becoming more acid; hypoxia means low oxygen levels. Studies of the Earth's past indicate that these are the three symptoms . . . associated with each of the previous five mass extinctions on Earth.

When polluters were required to phase out the chemicals they were emitting that were literally burning a hole through our Earth's atmosphere[remember CFC's?], they warned that it would create "severe economic and social disruption" due to "shutdowns of refrigeration equipment in supermarkets, office buildings, hotels, and hospitals." Well, in fact, the phaseout happened 4 years to 6 years faster than predicted; it cost 30 percent less than predicted; and the American refrigeration industry innovated and created new export markets for its environmentally friendly products. Anyway, the real point is we are not just in this Chamber to represent the polluters. We are supposed to be here to represent all Americans, and Americans benefit from environmental regulation big time.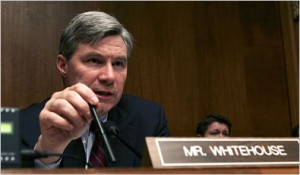 A quick peak at the issues page on Hickley's website shows specific support for increased use of fossil fuels and opposition to the, at one time, bi-partisan proposal for a cap-and-trade program that would provide the necessary economic incentives to reduce carbon emissions. We need a new path.
Of course,the Whitehouse – Hinckley race does not exist in a vacuum. If the United States is to take action on climate change there is one person who CANNOT control the Senate Environment and Public Works Committee: James M. Inhofe. Despite the 97% of all scientist which agree that climate change is happening because of human activity, Inhofe prefers to believe in a worldwide conspiracy.
Our choice in Rhode Island (and Massachusetts, Go Warren!) will impact our next steps. I do not want to support a single party in Congress, because the environment used to be a non-partisan issue, see Teddy Roosevelt and John Chafee. When the national Republican Party, however, stopped protection of open spaces, stopped preservation of the wetlands that buffer our coasts, and exempted  for hydraulic-fracking companies from disclosing what they are pumping into our groundwater, I figured it was time to take sides.
Oh, how I wish to return to the days when adults could talk about climate change without being accused of killing jobs. This is a short-sighted and narrow lens through which to view our economy. Developing a sustainable and beneficial economy for all of America requires attention to the elephant in the room: global warming. That's right, I said it, global warming. Ever see the phrase "Rhode Island: 3% bigger at low tide"? Imagine sea level rise continuing at its current pace. "Rhode Island: 3% smaller every century"
Stay tuned for tomorrow's installment of "What's at Stake on November 6th" where I will review some of the environmental issues facing the U.S House of Representatives in the next two years.