Now that the election is behind us, let's take a look at the combined expenditures in Rhode Island's Congressional races. We all know that a lot of money gets spent on federal elections — according to the Federal Election Commission, the total expenditures for Rhode Island's Congressional races this year was a whopping $9,760,162 — but the more shocking revelation comes when one breaks down the disbursements on a dollar-per-vote basis; or what is your vote worth?
This year's House races had an interesting ripple in the otherwise mundane process of making the selection between what many Rhode Islanders consider to be the lesser of two evils. Both races had an Independent candidate — David Vogel and Abel Collins in Districts 1 and 2, respectively.
Vogel and Collins ran very different campaigns than their major-party opponents, and to a large degree, ran very different campaigns from one another.
On the one hand, Vogel ran a campaign exclusively on public and media appearances and was actively NOT soliciting contributions, even from individuals. Despite spending less than $200 on his campaign, Vogel managed to pull 6.1 percent of the vote.
Collins, on the other hand, ran a more traditional campaign, seeking endorsements, making media buys, canvassing communities, and soliciting contributions from individuals and local businesses. After all was said and done, Collins raised and spent about $25,000, and locked up 9.1 percent of the vote.
Both Vogel and Collins were most undemocratically censored from their respective televised debates by an "editorial decision" by then General Manager of WPRI/FOX Providence, Jay Howell. Howell has since been promoted to Vice-president of regional television by the local Fox affiliate's parent company, the out-of-state and region owned LIN Media. The decision to censor Vogel and Collins from their respective debates was made before WPRI/FOX Providence had any polling data.
The Collins campaign was outspent by incumbent Democrat Jim Langevin and Republican challenger Michael Riley by nearly 40-to-1 and 33-to-1, respectively.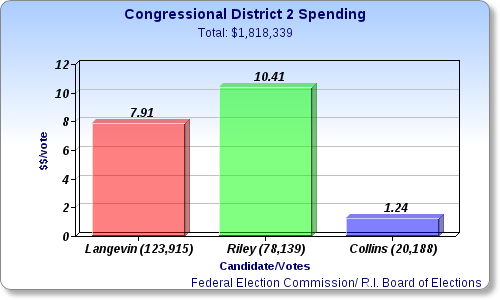 In District 1, the disparity in campaign spending was even more shocking. Incumbent Democrat David Cicilline and Republican Challenger Brendan Doherty outspent Vogel by orders of magnitude. Cicilline spent 9,928 times what Vogel spent, and Doherty clocked in at 5428 times Vogel's expenditures.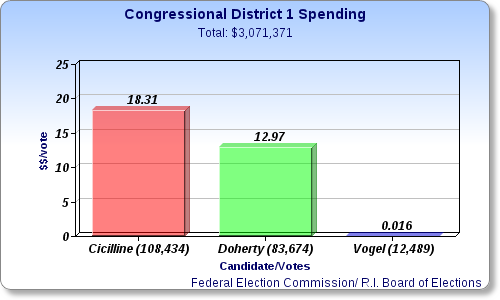 In the District 2 U.S. Senate race, incumbent Democrat Sheldon Whitehouse spent a total of $3,198,879 or $11.82 per vote, and Republican B. Barrett Hinckley, III spent a total of $1,159,016 or $7.93 per vote.
At the same rate of spending, Vogel and Collins could have arguably taken their races by spending $1,735 and $153,655, respectively.
One would think that the Independent candidates for Congress relative success on a shoestring — or in Vogel's case, an almost nonexistent budget — would prick up the ears of the Democratic and  Republican parties, and beg the questions, "Why are we spending $10 million every two years in Rhode Island to get our candidates into office," and, "How the hell  did Vogel and Collins even manage to get any votes on these budgets?"
The two-part answer is simple.
First, Rhode Islanders are smart. Smart enough to realize that, a vote for an entrenched Democrat or a trickle-down, small government Republican is essentially a vote for the status quo, with which an increasing segment of the population — say, oh, I don't know… about 99 percent — is not happy.
Second, a campaign and platform that offers actual solutions to real problems — rather than false economic platitudes and lip service to the middle class — resonates with the public. People know that something has to give in the U.S., and the offering of  a real option in these races — in the form a third candidate — would seem to be for what the public is clamoring.
Don't hold your breath waiting for these candidates and parties to change their spending habits. In the end, it is much easier for the entrenched parties and candidates to throw a boatload of money at a campaign than it is to actually come up with resonant policies and platforms, or become the leaders in Washington that Rhode Island deserves.
These numbers may fluctuate in the next few days. On Election Day T+8,The Board of Elections has yet to tally all of the votes in these races. Updates will be made accordingly.
(Editors note: Dave Fisher managed the Abel Collins campaign for the last six weeks of the election.)