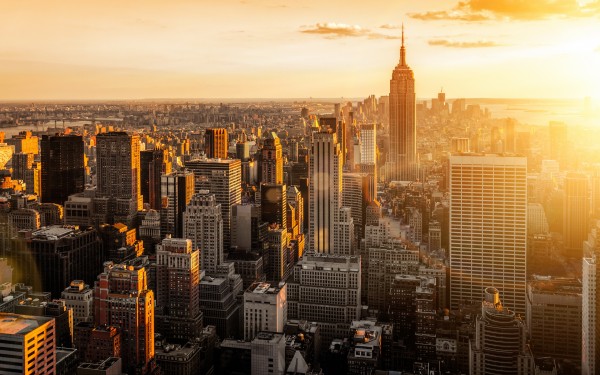 This presidential election cycle has me a bit confused, especially on the Democratic side. It seems that many of our leaders have forgotten that we are a nation of revolutionary ideas.
I'm a millennial who enlisted in the Marine Corps in 2001, emboldened by the fervor of unity that swept our country after the 9/11 attacks. Mix the boundless ego of a Marine with an 18-year-old's propensity for taking risks and it seemed all things were possible.
But you don't need to be a Marine to believe that we're capable of big things. Any entrepreneur worth their salt has pushed the envelope with an almost irrational belief in their capacity to make big things happen. Most of us know what it's like to be a young child with limitless curiosity, a hunger to explore, and a fearlessness to peer into the unknown.
It is that fearlessness and vision that gave birth to a revolution, one that would shape the future of the world. It was our revolution and it happened not all that long ago in the grand scheme of things.
The story of America isn't a fairy tale. The men who created it weren't gods, they were human. When did we become so timid about big ideas?
We created a self-governing republic that was unlike any other that came before it. This is our history. And the people who led this revolution and the people who fought this revolution were not super human. They were finite, they were flawed, but they were courageous.
America desperately needs a John Adams, a Jefferson. It desperately needs a people so belligerently unaccepting of social injustice that they rise up with their vote, their voice, and their aspirations.
No matter the cause of our sleepy abdication of power, we are still a self-governing republic. No matter the influence of big money, our vote cannot be bought. And there are still big ideas worthy of our history.
Ideas like making healthcare a civil right, converting our energy system from fossil fuels to renewables, and ending a corrupt campaign financing system that reduces our politicians from statesmen to frenetic fundraisers.
We didn't draft the Declaration of Independence thinking, "Nothing will ever change anyway, why even try." Men and women didn't sacrifice everything they had on earth saying to themselves, "Freedom would be really awesome, but it's not pragmatic or realistic."
Stop being so cautious America. If there's anything about who we are as a people that we can agree on, it's that we're revolutionary. Start acting like it.
When did we become a cautiously optimistic country?

,