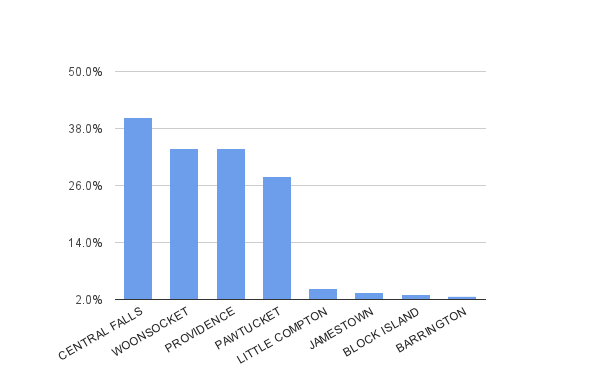 The five cities with the biggest budget problems also have the highest percent of residents who use SNAP benefits.  In other words, there's a correlation between the communities that can't pay their bills and residents who can't afford to feed themselves.
According to the Department of Human Services, 181,567 Rhode Islanders – 17 percent of state – use SNAP cards. But 59 percent of all SNAP users lives in one of the post-industrial cities that have experienced serious budget problems in recent years.
Central Falls; 40.3 percent
Woonsocket: 33.8 percent
Providence: 33.8 percent
Pawtucket: 27.9 percent
West Warwick: 25.8 percent.
The communities with the lowest percentage of residents who use SNAP cards probably won't surprise you either:
Barrington: 2.7 percent
Block Island: 3 percent
Jamestown: 3.5 percent
Little Compton: 4.3 percent
Smithfield: 5 percent
Here's the other 29 cities and towns:

And here's the entire list:
CENTRAL FALLS    40.3%
WOONSOCKET    33.8%
PROVIDENCE    33.8%
PAWTUCKET    27.9%
WEST WARWICK    25.8%
NEWPORT    15.4%
EAST PROVIDENCE 14.8%
CRANSTON 14.5%
WARREN    14.7%
NORTH PROVIDENCE    14.2%
JOHNSTON     13.4%
WARWICK    12%
HOPKINTON    10.7%
BURRILLVILLE    10.6%
COVENTRY    10.5%
WESTERLY    10.1%
LINCOLN    9.6%
CHARLESTOWN    9.2%
NORTH SMITHFIELD    8.9%
NORTH KINGSTOWN    8.8%
MIDDLETOWN    8.6%
TIVERTON    8.3%
CUMBERLAND    8.1%
EXETER    7.6%
BRISTOL    7.3%
FOSTER    7.1%
RICHMOND    6.9%
SOUTH KINGSTOWN    6.3%
NARRAGANSETT    6.3%
GLOCESTER    5.6%
SCITUATE    5.5%
EAST GREENWICH    5.5%
PORTSMOUTH    5.2%
WEST GREENWICH    5.1%
SMITHFIELD     5%
LITTLE COMPTON    4.3%
JAMESTOWN    3.5%
BLOCK ISLAND    3%
BARRINGTON    2.7%
Where The SNAP Cards Are

,