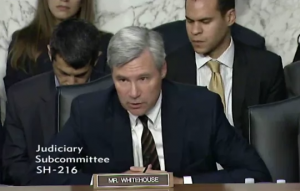 Sheldon Whitehouse has joined with his new progressive ally in the Senate, Tammy Baldwin of Wisconsin, to implore President Obama to include his Buffett Rule bill in the so-called fiscal cliff negotiations.
Whitehouse, Rhode Island's highest ranking progressive, introduced the Buffett Rule bill – also known as the Paying a Fair Share Act – earlier this year. Baldwin introduced the House version when she served in that chamber.
The legislation would ensure that those who make more than $250,000 annually would pay at least 30 percent in income taxes. Read this post Whitehouse authored exclusively for RI Future in April on the matter.
Here's the text of the letter they sent to the president:
Dear Mr. President:

As you continue to negotiate with Congressional Leaders on a compromise to avert automatic tax rate increases and funding cuts, we write to urge you to include our Paying a Fair Share Act in any deal.  This legislation, which a majority of Senators voted to advance last April, would implement the so-called "Buffett Rule" by requiring multi-million-dollar earners to pay at least a 30% effective federal tax rate.

In remarks on April 11, 2012 urging Members of Congress to support our bill, you noted that, "one in four millionaires pays a lower tax rate than millions of hardworking middle-class households."  Such inequity, inexcusable at any time, has been compounded by the funding cuts in the Budget Control Act, which fall disproportionately on programs that help lower-income and middle-class families.

In addition to letting the Bush-era tax cuts expire for incomes above $250,000 as you have pledged to do, we believe it is imperative to enact a safeguard to ensure that the highest-earning Americans cannot subvert the progressivity of the tax code through loopholes and special rates not available to middle-class families.  In addition to serving as that safeguard, our Paying a Fair Share Act would reduce the deficit by $47 billion, helping to avoid more painful budget options.

We know the task of negotiating a deficit-reduction deal is difficult, and we commend the work you have done so far.  We once again urge you to champion the "Buffett Rule" in your negotiations and stand ready to assist you in any way we can.

Sincerely,

U.S. Senator Sheldon Whitehouse
U.S. Senator-elect Tammy Baldwin
Whitehouse, Baldwin Press Obama on Buffett Rule

,