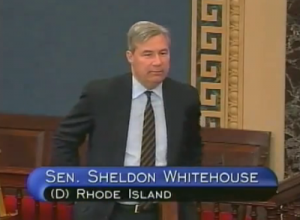 Sen. Sheldon Whitehouse has said all along that it would likely take several votes before Democrats could break the hold that Wall Street special interests hold over their republican counterparts and such seems like the fate for the Buffet Rule, which was successfully filibustered Monday on its first vote on the Senate floor.
"I'll keep fighting to make the Buffett Rule law," he said in a statement issued yesterday afternoon. "Although we were unable to break the Republican filibuster, a majority of the United States Senate has gone on the record in favor of greater fairness in our tax code."
Here's a video of Whitehouse speaking on the Senate floor yesterday:
Prior to the vote, Whitehouse had made a practice of mentioning that oftentimes legislation that would hurt Wall Street special interests needs to come back to the floor several times before Republican Senators will do right by the American people instead of corporate campaign backers.
"We tried to go to the Wall Street reform bill in the Senate and Republicans filibustered it," Whitehouse told me recently. Majority Leader "Harry [Reid] found a way to call it up again and we lost again. Then Harry figured out a way to call it up again and we lost again. It was either fourth or fifth time it was scheduled for a vote, and we were going to stay up all night to bring attention to this, and at that point the minority leader came in to our leader, Harry Reid, and said, 'I give up. My guys are getting killed, they are getting phone calls at home. We're throwing in the towel, you can go to this bill.' And that was a really clear sign that you can have special interest obstruction that can stop progress on a bill not once, not twice but four times and still in end prevail."
The Buffett Rule needed 60 votes to break the Republican filibuster and received only 51. Sen. Mark Pryor was the only Democrat to vote against the proposal and Sen. Susan Collins of Maine was the only Republican to vote for it.