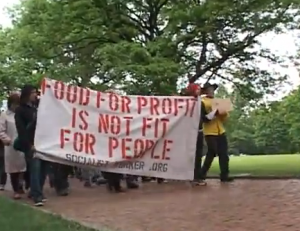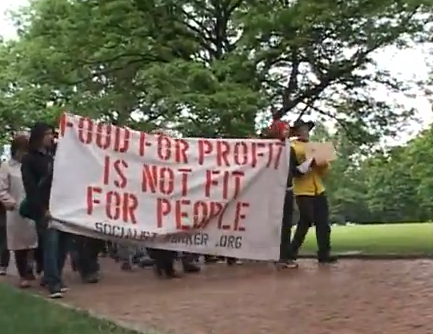 Last Saturday, 400 anti-GMO protesters marched through downtown and rallied at the State House in Rhode Island, as others demonstrated in cities around the world. One would think this warrants the attention of CNN and other mainstream media- yet where is the coverage?
Alternative, independent media is clearly more crucial than ever, as is the role of women in politics & journalism. Most of these protests were organized by women, which is encouraging, given their lack of leadership space- both on the whole and in "liberal/radical" movements like Occupy.
So: upon making their voices heard, are things looking up? Sadly, no- the silencing continues, in many ways, in many places.
This Monsanto monster just won't quit- and it certainly doesn't sleep. Spending nearly $6 million on lobbying to ensure the passage of the Monsanto Protection Act wasn't enough. Now it has inserted an amendment into the 2013 Farm Bill (passed by the House of Representatives' Agriculture Committee) that would make it impossible for individual states to pass GMO-labeling laws. The amendment, introduced by Rep. Steve King, an Iowa Republican, has been dubbed the Protect Interstate Commerce Act (PICA). The PICA amendment would end recent efforts in states like Connecticut and Vermont to label GMO foods. Even in the highly unlikely event that GMO foods are proven to be only economically harmful, consumers nonetheless have a right to know what is in their food, and where it comes from.
Here's Paul Hubbard's video set to Jared Paul's music, ICYMI: