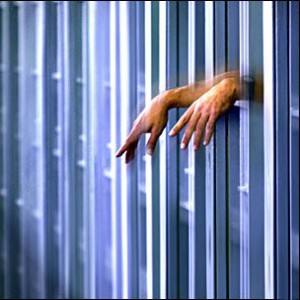 This week the Senate Judiciary voted to eliminate Good Time for people convicted of murder or serious sex offenses (1st degree child molestation, 2nd degree child molestation, kidnapping of a minor, and 1st degree sexual assault).  (Good Time is the 10 days per month a prisoner receives for good conduct.  In a month where the prisoner gets in trouble, they get no Good TIme, and will get 1-3 months worth of Good Time subtracted from their total.)  At the same time, as blogged by Tom Sgouros, A.G. Kilmartin let Wall Street off the hook on the foreclosure crisis.  The Attorney General also has a "White Collar Crime" proposed bill that isn't about white collar crime- it is about corrupt public officials exclusively.  He has absolutely no response to the financial crisis that is rampant with actual criminal activity.
It has long been accepted that White Collar crime is more serious than street crime.  Even the political debates, which focus on fear and leave rationality behind, don't have space to waste on street crime- but the Bailout, foreclosure crimes, and mass healthcare fraud make the cut.  Yet when it comes to taking action and making the world a safe and secure place, we come back to the tried-and-true.
The "Woodmansee" legislation will put more pressure on the parole board to either release someone, or serve a long and costly incarceration.  As prisoners age they get more expensive.  Rhode Island will find out.  Still unwilling to do something as little as make marijuana possession a civil penalty, the General Assembly's thirst for prisoners may never cease.  Even as the state crumbles around them.  It is understandable to want to kill those who have committed terrible crimes, or in lieu of that, lock them up forever.  Two factors need to be factored into that impulse: money and morality.
Plea bargains do as much, if not more, for the taxpayers than they do for the accused.  It is no small thing to plead guilty to a serious offense, to give up any slim hope of exoneration, or being convicted of a lesser charge.  Pleading guilty means admitting to the facts laid out by the Attorney General, and these are not agreed upon in the bargain.  They may be inaccurate, and they may come back to haunt someone who is looking for work years later.  Pleading guilty also means saving the taxpayers the cost of a trial.  Lawyers on both sides should be spending dozens of hours in preparation for a trial.  Their investigators would be spending days in preparation.  Expert witnesses would be found, and paid.  Although the Attorney General's office and Public Defender are salaried, rather than hourly, enough trials would bring the entire system to a halt.  More staff would be hired at a few more million per year.  And to avoid this, the Attorney General offers a seemingly lighter sentence than would be had from a judge angry at the audacity of taking it to trial.
Judging by the Attorney General's attitude towards prisoners, that they all should serve as long a sentence as legally possible (and in some cases, such as Woodmansee's, spitting in the law's face)… it is impossible to see any space for rehabilitation in the Attorney General worldview.  This is not particular to him.  A.G. Lynch, and most A.G.'s around the country, also have lobbyists who fight against any relaxation in the street crime laws, and also actively pursue increases in these laws.  Thus, they should not be taken seriously when engaging in, or talking about, reentry or rehabilitation.
Eliminating Good Time based on someone's crime reinforces the notion that someone will always be the sum of a single day.  That they can not change.  That they are their crime.  This analysis is rampant throughout the criminal justice system, and is not very useful in assessing rehabilitative needs.  As someone who has been out for nearly seven years from a second degree murder conviction, I would still be on parole if not for Good Time.  And that is assuming the parole board would have looked as favorably on my situation, if my release date were September, 2013.
I've been asked recently if the Woodmansee Law, which will surely go through (yet not affect Michael Woodmansee, of course) will be applied retroactively.  It is not uncommon for states to feel that court decisions, including those ruled by the U.S. Supreme Court, do not bind them.  So it is possible that RI will apply this rule to several hundred prisoners at the ACI. It will not hold up in court however, as prisoners have a "liberty interest" in Good Time credits; once given, they cannot be arbitrarily revoked.
Rhode Island has not hit rock bottom on "Getting Tough" on street crime.  It may take more budget, more staff, more prisons.  There is some debate of whether anything political can change course without a cataclysmic event.  Whereas a minority of the General Assembly do bring some wisdom to the table rather than a "base mobilizing" approach to extremist positions, we shall see.
Why Getting Tough Is Weak

,