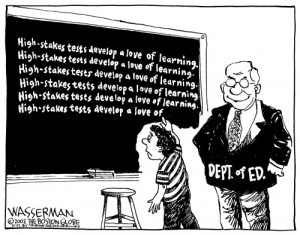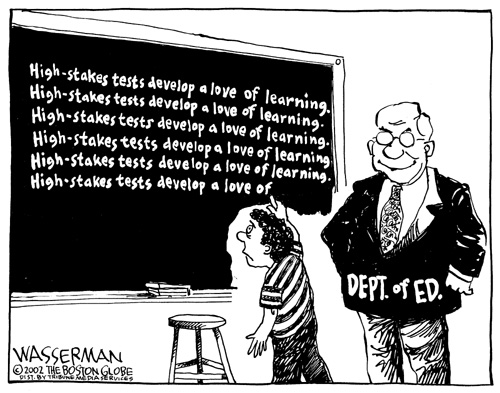 A broad coalition of education activists and defenders of the less fortunate will attend the Board of Regents meeting tonight to ask the public education oversight committee to reconsider a new rule that would require high school students to pass a standardized test – traditionally used for grading school performance, not student – in order to graduate.
"The proposed revisions have been described to the public as an abandonment of the universally decried three-tier diploma system," said a letter sent to the Regents by the coalition. "However, the public is largely unaware that they propose to substitute a two-tier system through a Regent's endorsement which would, for all intents and purposes, yet again effectively label as 'not proficient' those students with unendorsed diplomas based on their standardized testing score."
The letter goes on to read:
According to 2010 NECAP scores, this group would once again include the overwhelming majority of students who are non-white, poor, have disabilities or are English language learners.

Given the significance of these changes and their potential impact on the most vulnerable youth of Rhode Island, it is critical that the public have further opportunity to comment on the new proposal through public hearings so that the intended and unintended consequences of these regulations are fully understood and addressed.
Writing in GoLocalProv, Aaron Regunberg describes why using high-stakes testing for a graduation requirement is such a bad idea:
Last year, 71% of African American students and 70% of Latino students in Rhode Island scored less than partially proficient on one of the NECAP tests and so would not have graduated. And the effects would have been even more serious among other student subgroups—86% of students with IEPs (special education students) and a full 94% of students with Current Limited English Proficiencies would have failed to graduate. It should be clear to most readers that any regulation that puts this many students at risk for failure to graduate is beyond unfair. It puts the entire weight of educational accountability and responsibility on the shoulders of individual students, many of whom have been academically underserved since elementary school and have not been provided with the resources necessary to address their weaknesses in test-taking.
And Providence Business News reported recently that the gap between the haves and the have-nots in high-stakes testing results is increasing:
While the statewide proficiency improved, the NECAP results showed that achievement gaps separating many groups of students widened. Gaps between black and white students, Hispanic and white students, English and non-English learners and the gaps between economically disadvantaged students and non-economically disadvantaged students widened at all three grade levels.

"Although I am pleased by the statewide improvements on the 2012 NECAP Science assessments, the persistent achievement gaps across all grade levels remain a significant concern that we will work to address," David V. Abbott, acting commissioner of elementary and secondary education, said in prepared remarks.
The Regents meet today at 4 p.m. at the Department of Education headquarters at 255 Westminster Street in room 501.