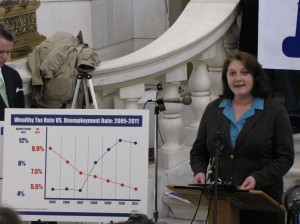 When it comes to championing progressive causes, no one in the Rhode Island General Assembly is any braver than Providence Rep. Maria Cimini.
For years, she has lead the charge – against the richest special interest group in Rhode Island – for a less regressive income tax structure. And this year she valiantly defended on the House floor during the late-night budget bill debate, the Providence hotel house keepers – some of whom live in her district – as House leadership effectively nixed their effort to implement a city-wide hotel-industry minimum wage. She's always standing up for the poor and standing up to the powerful.
Such progressive bravery has won Cimini not just the respect of this blog, but also the ire of House Speaker Nick Mattiello. He tells the Providence Journal he's backing Cimini's primary opponent because she didn't back him for speaker, didn't apologize for that and because she doesn't agree with him on policy.
According to the ProJo Mattiello said, "Representative Cimini didn't support me for speaker and never came to me to indicate she would support me in the future. She didn't ask for my support in her race and Dan McKiernan did come and ask. Like me, he is a moderate, and his political viewpoints are more in line with the voters of his district and the state of Rhode Island."
Mattiello is wrong to use his considerable political influence to settle Smith Hill vendettas. And the people of District 7 deserve a legislator elected based on his or her merits, not their loyalty to House leadership.
On the other hand, if he thinks his trickle-down economic policies represent the Elmhurst area of Providence better than Cimini has done, well then it's his right to oppose her reelection.
But Maria Cimini deserves strong progressive support for her steadfast allegiance to working class Rhode Island. She's fought hard against high stakes testing and she fact-checked Ken Block (when he overinflated he amount of fraud in the SNAP program). She's been a champion for tax equity and a higher minimum wage. And she may need our help depending on how adamantly Speaker Mattiello works against her.