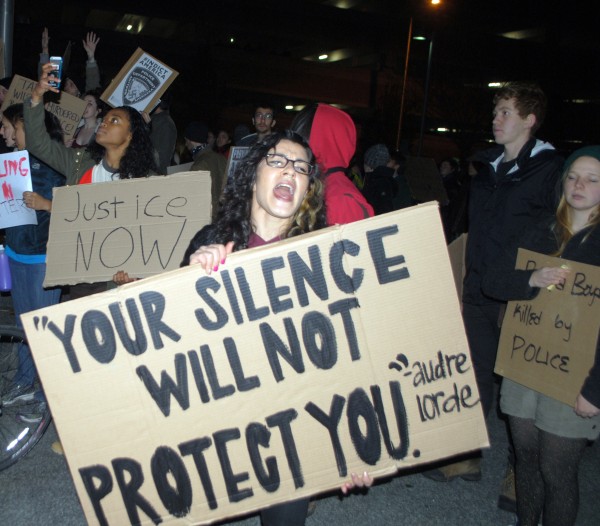 I have devoted much of my life to the labor movement, I believe that poor and working people have all the capacity and intelligence to run their own lives. I also believe that democracy needs everybody and should extend into economic life. I believe that anti-racism, anti-sexism, anti-gender bias, are core values of labor.
I believe that without these values, there is no value to the movement. I believe that all poor and working people are members of the labor movement, that the labor movement is more than the book in your wallet. I am as hurt by the silence of labor's leaders as I am heartened by scope of the protest.
History does not look kindly on the silent or the safe. I look at the kids organizing this national protest against police violence as well as the folks organizing the fast food workers, and I see clearly that this is where our leadership will come from. Laying down themselves on our streets and highways to say with such determination and courage STOP.
The xenophobia against the undocumented and animus directed against their children, the cruelty of punishment meted out to black preschoolers, the prisons full of people of color, the austerity directed at mothers and the aged. These are labor's people, labor needs to speak out, loudly and without compromise that this is our fight, together. My disappointment is deep. I know we can do better. I will commit as a labor leader.
I am committed to anti-racism.
I believe medical care is a civil right.
I believe work should be available for everyone who desires it.
I am committed to anti sexism.
I am committed to prison abolition.
I am committed to full gender inclusion.
I am against austerity.
I will work understanding that the aims of working people and the aims of wealthy people are not the same.
I am committed to housing justice.
I am committed to working for a fully de-militarized police.
I am committed to fully de-militarized schools.
I will never be silent.
I am committed to winning for working people comfort, culture, safety, and community.
I will not compromise these core beliefs.
I am inviting all other members of traditional labor to sharing this commitment.
Labor needs to align with human rights everywhere

,