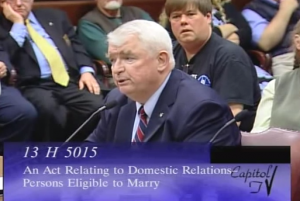 The arc of history is bending towards marriage equality. In a few years, people will look back at opposition to same-sex marriage the same way we look at the racist congressmen who voted against the 13th Amendment in Steven Spielberg's Lincoln.
For real, concrete examples of political regret, we don't have to look that far back and we don't have to visit Alabama. We can look at our own state's recent past, and listen to the words of former state Rep. Charles T. Knowles.
"About twenty years ago I was sitting right where the Chairwoman is, and that year this committee defeated the gay rights bill," he testified. "I was chairman of the committee, I voted against it and for a period of about three months I was probably one of the most unpopular people in the state of Rhode Island…"
I viewed my opposition basically on moral grounds, as a Christian, but I've also said to myself that the First Amendment separates church and state. I believe it goes both ways. The government shouldn't be putting its nose into my religious beliefs or lack thereof, and I think people's religion should stay out of this building.

When I was a lawmaker, I should have looked at the law and the Constitution before I made up my mind based on what was in my heart.
At the time Knowles helped defeat the gay rights bill, he said some pretty ignorant things in defense of his views.
I can  not extend  that support  to employment because  I feel  such an across-the-board  extension will  establish gays  as a  constitutionally protected class  on a par with  race, gender, national origin  and other involuntary types of status.

Until  we are  presented  with positive  proof  that homosexuality  and bisexuality are totally  involuntary in nature, I choose not to extend the purview of the  state's protection to employment, for fear of creating a Pandora's box of spurious litigation.
Decades later Knowles' views have evolved. It is the rare and courageous man who can admit when he is wrong. Charles Knowles is to be commended for delivering this very difficult and emotional public mea culpa.
Why Marriage Equality: Charles T Knowles

,