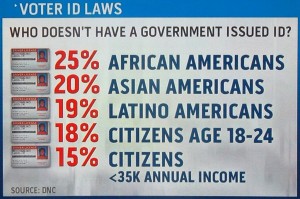 A North Carolina Republican, who declines to distance himself from racism, admits that voter ID laws are designed to give Republicans an electoral advantage. Which, I suppose makes some strategic sense for a Republican-leaning state with a recent history of racism like North Carolina. But why does Rhode Island have a voter ID law?
Watch the not-funny-because-it's-true Daily Show segment here, in which Aasif Mandvi suggests Democrats level the playing field by suppressing Republican turnout with, among other ploys, "Jesus didn't vote" bumper stickers.
The segment also features Civil Rights hero and Georgia Congressman John Lewis who will be in Rhode Island later this week for the Providence NAACP's 100th Annual Freedom Fund Awards Dinner.
This Daily Show segment on voter repression is pretty good too:
Why red states love voter ID

,