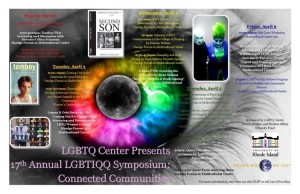 To announce an event to be held a the LGBTIQQ Symposium, running from April 2 through 6, URI issued a press release in which it announced the symposium while highlighting the following: "The University of Rhode Island will present a panel discussion focusing on the unique workplace experiences of lesbian, gay, bisexual, intersex, queer or questioning individuals as they navigate life after graduation."
In the context of its discussion of  "unique workplace experiences," the panel should raise the question of why Andrew Winters is no longer at URI, his former workplace. This is a particularly harrowing question, as, since the mid nineties through last spring, Andrew Winters was the primary organizer of this very symposium.  Indeed, thus far many questions have been raised, but not a single one has been answered.
Here is a short summary of what has happened:
On April 5 of 2011, a number of concerned members of the URI community wrote a letter to URI President David Dooley.  In the letter we stated, with a sense of alarm and profound regret, our objections to the letter of reprimand that Andrew Winters had received from Kathryn Friedman, at the time Interim Associate Vice President in the Office of Community, Equity and Diversity.  Ms. Friedman alleged that the LGBT URI community had "without exception" expressed no confidence in Andrew Winters.
The two words "without exception" capture the unprofessional nature of this communication and the atmosphere of intimidation and bullying that characterized Andrew Winters' "unique workplace experience," once the university administration decided that his tenure at URI would be terminated.  Many also understand that it was precisely Andrew's unrelenting effort to address bullying and harassment at URI that rendered him unwelcome in eyes of the URI administration.
Our esteemed colleague URI President David M. Dooley, replied: "This issue, however, pertains to a confidential personnel matter and I am not at liberty to meet with you to discuss the situation."
The trouble with this administrative response was that it applies to any conceivable form of arbitrary and capricious conduct of the administration directed at anyone.  By definition, any such abuse of power by administrators could be construed as "a confidential personnel matter." and, following this reasoning, would therefore be beyond scrutiny, discussion, and accountability.  This objection, predictably, drew no response.  The same happened to the letter to the Rhode Island Board of Governors of Higher Education.  The Board never had the courtesy to acknowledge receipt of our letter, and to date has failed to take appropriate corrective action.
Fast forward to Tuesday, Jan. 24.  At that date, The House Commission to Study Public Higher Education Affordability and Accessibility in Rhode Island visited URI for a public hearing to collect expert testimony to improve affordability and accessibility of higher education.  At the hearing, I made the following statement and raised the following questions, which are recorded in the minutes of the meeting:
As of August 2011, URI is number 14 on the Princeton Review list of the bottom 20, least LGBT friendly schools. Clearly, URI is not accessible to students for whom the LGBT climate and safety is a concern. URI operates under the cloud of what it has done to Andrew Winters, who, as we know, was bullied out. Your committee should look into several issues:

1. To force Andrew Winters' departure, how much money was spent on URI's offer he "could not refuse?" How much on unemployment benefits to which he is entitled?

2. The URI administration has stonewalled every single question by hiding under the cover of confidentiality. How can there be public oversight of URI procedures, governance, and due process?
3. How can there be progress, unless URI is held fully accountable for the injustice done to Andrew Winters?
4. How can Andrew Winters' successor, Annie Russell, operate effectively in a climate in which messengers of bad news are not tolerated?
5. With all the above questions looming unanswered, how can there ever be adequate support for LGBT students at URI?

The charge of the committee explicitly refers to student support and governance issues. In other words, all the issues raised here are germane to the committee's charge.
Since its inception, the URI LGBTIQQ Symposium has been conducted in the tradition of promoting cultural sensitivity and advocacy for fair and equitable treatment of LGBTIQQ people.  In keeping with this tradition, I respectfully ask that the citizens of Rhode Island demand redress of the injustice done to Andrew Winters and correction of the University governance that made this possible.