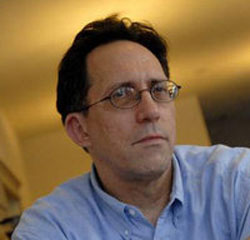 I wrote a pair of articles (Reason, Bigotry on Display at Marriage Hearing and Tobin Aligns With Hate Group to Oppose Equality) that explored the sordid background of the Catholic Church's new ally in their quixotic quest to deny consenting adults their right to marry who they choose. I called particular attention to Brian Camenker of the group MassResistance, a certified Southern Poverty Law Center anti-homosexual hate group. The SPLC documented a series of bigoted, hateful comments by Camenker, which Camenker, apparently denies.
I say apparently because in response to my posts Camenker wrote vigorous denials, but in the form of an email to members of his group, not on any public forum. Those who are not already members of Massresistance would not have had access to Camenker's comments on my articles. In fact, the only way I heard about his response at all is through Gina Miller of RenewAmerica, a conservative website that functions on the intellectual level of Glenn Beck. This raises the question: why is Camenker afraid to publicly air his denials and content only to run damage control among the faithful? Could it be that his denials will not withstand public scrutiny?
Gina Miller is on Camenker's mailing list, and in her article entitled Pray for MassResistance and marriage in Rhode Island she quotes liberally from his response to my posts. I'll let interested readers follow the link to his defense, such as it is, and instead concentrate on one important paragraph near the end:
MassResistance has been a pro-family group serving people with traditional values in Massachusetts and other states for over 18 years. We are proud of our record of supporting marriage and family, and will stand by everything we've ever said or written.
Right Wing Watch documented Camenker's appearance yesterday on the Sally Rios radio show, a propaganda arm of the American Family Association,  where the MassResistance leader and spokesman claimed that there is no proof that transgender and homosexual kids suffer bullying and harassment. He also doubted whether transgender and homosexual kids exist at all, apparently believing that LGBTQ teens are either lying or delusional about their sexual orientation.
Camenker, then, is the kind of person and MassResistance is the kind of group that Bishop Thomas Tobin, NOM-RI, the Knights of Columbus and countless other church leaders have aligned themselves with: people who actively work against the safety of our schoolchildren, denying reality in the process.
Decent people would be ashamed of such an association.
Why Won't MassResistance Defend Itself Publicly

,