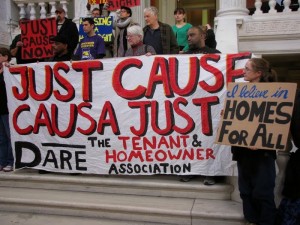 For the past five years, a group of dedicated residents, most of whom are currently fighting foreclosure and eviction from their homes, have campaigned to make banks accountable to Rhode Island Landlord-Tenant law. Currently, banks that take over property make it a practice to evict the tenants who are living there, regardless of whether there is any "just cause" to do so. The RI Landlord-Tenant Act does not permit any other landlords to conduct these "no-fault" evictions, which lead to increased homelessness, blight, and economic stagnation in our state.
So, why have banks been allowed to get away with this for so long? Why are our neighborhoods strewn with abandoned, dangerous, burned-out shells of former homes, while so many sleep in the streets or overcrowded shelters?
It's time to ask the leadership of the General Assembly why they've allowed this travesty to persist, especially when the solution has been presented to them for five years running. The Just Cause bill (H7449, S2659) is going to be heard in the House Judiciary Committee Wednesday, April 30th. The bill would prevent banks from evicting tenants in foreclosed buildings unless there is "just cause" to do so, just like any other landlord. Before the hearing, we need to make clear to the Committee Chair and the Speaker of the House that this bill must pass this year. It's time for policy-makers to act on the initiative and needs of the people instead of their own self-interest.
Please sign our petition before the 30th! We need your support to make this bill the priority it ought to be in the statehouse this year!
https://www.change.org/petitions/cale-keable-and-nicholas-mattiello-and-john-edwards-put-just-cause-bill-h7449-to-a-vote#