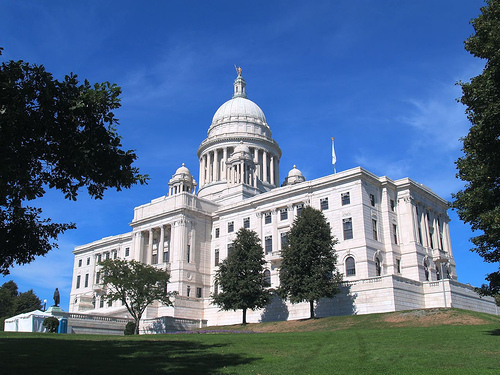 So, yesterday was the day when Senate President Teresa Paiva Weed threw down 25 bills that she hopes will "improve Rhode Island's business climate and its position on national business-friendliness surveys."  After years of bad decisions and then paralysis, the General Assembly now has a collection of bills to review that stem from the recommendations set forth in Moving the Needle, a joint report by the Senate Policy Office and the business backed policy group RIPEC.
Before I look into the actual legislation, I wanted to make a general comment about the obsession that people have regarding national business rankings.  Rhode Island all too often gets hung up on its self-defeating cynicism and inferiority complex.  Rather than looking at the assets that exist in the state and developing a plan to use those assets to grow the economy and support the businesses that currently exist, policymakers seem obsessed with how we rank nationally.  People generally forget that before the global economy went down the toilet, Rhode Island had an unemployment rate that matched the national average.  A lot has happened in the past 6 year, but in March 2007 the state's unemployment rate was 4.8%.  Aside from the global recession, I'm not sure the structure of every state's economy has changed all the dramatically.
One word of advice would be to just stop looking at national ranking.  Rhode Island is not Texas.  Rhode Island will never be Texas.  The only way Texas will ever be relevant to Rhode Island is if there is something very specific that Texas does that Rhode Island may want to replicate.
I humbly offer my comments about specific pieces of legislation while acknowledging that overall much of it makes sense, but will likely only be marginally beneficial.
Division of Economic Data and Information: This, to me, seems like it should exist within the Economic Development Corp.  But aside from where the function sits, gathering detailed economic data, analyzing that data, and using it to inform strategy is critical to growing the economy.  Equally important, though, is that this needs to be something much more than a person who merely aggregates information from the Division of Labor and Training.
Long-Term Strategic Visioning Document: Planning is good and every successful business and government does it.  Rhode Island should do it too.  Something that has always frustrated me about Rhode Island is its lack of implementation.  If one were to do a scan of the past few years, they could find a whole assortment of studies, economic development plans, guidance documents, etc.  But what the state has not yet done, what it seems the state is incapable of doing, is developing an implementation plan, a governance structure to facilitate the execution of the implementation plan, and granting it the authority and autonomy to do it.  Again, I think much of this should be housed in the RIEDC.
Commerce & Workforce Coordination Cabinet: I'm all for cross-departmental coordination, but I fear this may just be another meeting that people have to attend.  I think it comes down to how much autonomy it will have to offer recommendations for the long-term strategic vision, how willing this or any Governor is at listening to and incorporating that advice, and how serious public officials will be with the task at hand.
Business Presence on Statewide Planning: Planning for the state's transportation, water system, affordable housing, growth centers, economic development, etc. is a skillset that business may not have.  I'm fairly indifferent about including some business presence on the State Planning Council to incorporate some additional information that they may not be getting, so long as they let the professionals do their jobs.
Preserving the Renewable Energy Fund: Yes please.  Additionally, I would boost the fund to at least $10 million and provide low interest loans and limited grants to those who would like to invest in renewable energy for residential properties.
Back to Work Rhode Island: I have very mixed feelings about this.  On the one hand, unemployed Rhode Islanders can quickly become irrelevant in a rapidly changing labor market.  Ted Nesi recently highlighted this when he asked if Rhode Island is suffering from hysteresis.  The longer an unemployed worker is out of a job, the less appealing they become to potential employers.  If for nothing else, getting some skill training and having a recent job listed on a resume makes me want to support this.  On the other hand, I wonder what the oversight mechanism will be.  I can picture unscrupulous employers abusing this system and churning though workers on an ever-repeating 6 week basis (think restaurants, retail, hospitality, etc.) without staff time dedicated to oversight.
Childcare for Participants in Workforce Training and Childcare Assistance Pilot: YES.  This is critically important for single parents who want get job training but cannot afford child care.  I would also add transportation vouchers for them to get to and from training.
Enhanced Jobs Match:The state should be thinking more creatively about linking the unemployed to employment opportunities, especially considering the dwindling funds for job training. The state needs a system that better links the supply of skills that the unemployed has with the demand for skills that employers need.  If there is a huge unmet need for a prolonged period of time, then training funds should be used to meet that need.  The problem is, and it is no small problem, it will take more time to screen candidates at the local One Stops, which means if the state doesn't put more resources to this important task, fewer people get served.  If DLT needs help with this system, they merely have to tap the vast network of tech folks in Providence who could probably design and build a better system than what we have over the weekend… while they sleep.But more to the point, Rhode Island needs more than just this.  To put it bluntly, the public workforce system is broken.  In particular, it is underfunded and operates in silos.  And in Rhode Island, the folks at Workforce Solutions of Providence / Cranston don't have the same level of authority as the folks who work at Workforce Partnership of Greater RI.  The former are city employees, the latter are DLT employees with much greater access.  Also, there are not enough people in the public system who can speak Spanish.  I wrote a report for the City of Providence last year called Rethinking Workforce Development for Providence's Labor Force that details a lot of the issues that make the system inefficient and ineffective.  The system needs more than a new website.
Help Former Students Finish Their Degree: It's a good idea to help people get their degrees, but there are a lot of reasons why people leave college prior to completion: transportation, shift change, child care, used up Pell grant, etc.  Communicating with students to get them to finish is a good thing, but someone needs to actually do it.
Reverse Transfer: This would allow for credits earned for a Bachelor's degree to be transferable toward an Associate's degree at CCRI.  Might as well, but it will likely be underutilized.
Economic Development Tax Credit Accountability Act and Tax Credit Statement of Purpose: Yes, but EVERY SINGLE tax credit and expenditure offered by the state should be reviewed for their cost and effectiveness at generating economic growth.  Any tax credit or expenditure that is shown to not generate an appropriate level of growth to justify its cost should be eliminated.
Restore Historic Tax Credits: Rhode Island, I want you to understand that if you do this, it will cost a LOT of money.
Much of what came out yesterday is non-controversial and fairly common sense.  To quote a colleague: "Congratulations to the Rhode Island Senate for formulating a plan to get us out of the recession, 4 years after it officially ended. I knew you could do it."  The unfortunate reality is that it will take a while for the state to grow out of the recession.  This is just the first step.
Will 'Moving the Needle' Help Rhode Island?

,