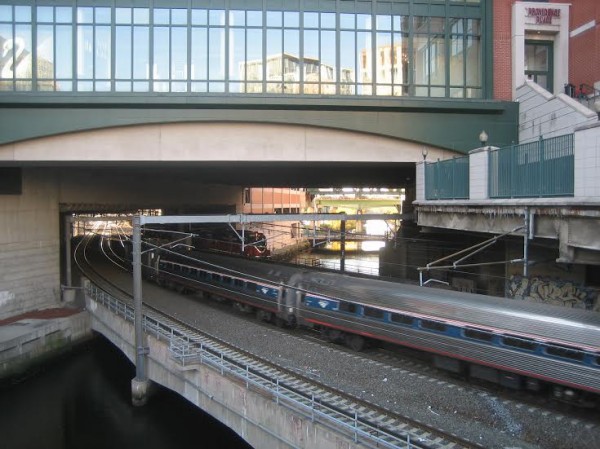 The federal government is considering improvements and changes to train service along the Northeast Corridor rail line that could end up bypassing Providence in favor of Worcester. Here's how:
"NEC FUTURE – a plan for rail investment for the Northeast Corridor," sponsored by the Federal Railroad Administration (FRA), and as their title indicates, is a program to determine a long-term vision and investment program for the Northeast Corridor (NEC), and to provide a Tier 1 Environmental Impact Statement (EIS) and Service Development Plan (SDP) in 2016 in support of that vision. The FRA launched NEC FUTURE in February 2012.
February 16, 2016 will be the last day to make comments on the Tier 1 Draft EIS (DEIS) before NEC FUTURE prepares the final document.
Throughout the last few years there has been a series of public hearings and workshops in various cities situated along the NEC, including Providence, to gather information from the public and show direction and progress of the study and preparation for the EIS.
Summary of NEC FUTURE and the DEIS
NEC FUTURE has three alternatives, plus a no action alternative, for upgrades to the Northeast Corridor with a focus on developing or enhancing high-speed rail (HSR) service.

Alternate 1 – Proposes upgrades to the existing NEC route. Features include a new rail bypass to extend from Old Saybrook, CT to Kingston, RI to speed service by avoiding curvy sections of the NEC in eastern Connecticut. Also additional tracks are proposed at choke points along the length of the NEC and new rail tunnels in Baltimore and between New Jersey and New York.

Alternative 2 – Proposes multiple track segments from Washington through the New York area along with other improvements. In southern New England a new HSR route is proposed between New York and Boston from New Haven to Hartford to Providence.

Alternative 3 – Proposes a completely new track corridor between Washington and New York that would run roughly parallel the existing legacy NEC. North of the New York four potential combinations for new HSR routes that are suggested between New York and Boston:
3.1 Central CT-Hartford-Providence
3.2 Long Island-New Haven-Hartford-Providence
3.3 Long Island-New Haven-Hartford-Worcester
3.4 Central CT-Hartford-Worcester
As the NEC FUTURE process heads towards its conclusion, there seems to be more questions than answers.
Within NEC FUTURE's Alternatives Report, NEC population and employment forecasts show serious discrepancies, as far as how metropolitan area population and employment are defined and counted.
The New Bedford area, but also the border cities and towns of Massachusetts, and some of Rhode Island's population was left out of the Providence metropolitan area count. Springfield, which is 30-miles away and technically is its own distinct and separate metropolitan region (a Combined Statistical Area or CSA), was added to Hartford, where New Bedford, which is generally included in the Providence MSA (or Metropolitan Statistical Area) calculation, also 30-miles away but from Providence was left out.
Incorrect data from the DEIS Appendix – Alternatives Report (October 2015)
Population:
Providence 970,000
Hartford 1,800,000 (the separate CSA of Springfield is added to the Hartford count)
Employment:
Providence 426,000
Hartford 873,000
Actual U.S. Government data from Census Projections (2014) for Population and Bureau of Labor Statistics (November 2015) for Employment Statistics
Population:
Providence MSA 1,609,000
Hartford CSA 1,214,000
Worcester MSA 931,000
Springfield CSA 629,000
Employment:
Providence 649,000
Hartford 590,400
Springfield 395,000
Worcester 329,000
New Bedford 78,000.
What's implied in the DEIS numbers is that Providence is equivalent to Worcester instead of Hartford. So, if Providence and Worcester are roughly the same (which they are not) why build a second HSR route (Alt 3.1 or 3.2) through Providence? 

A Worcester route (Alt 3.3 or 3.4) would offer faster high-speed trains between Boston and New York, but if such a route were created, the coastal NEC would effectively become secondary local tracks. Coincidentally, a series of diagrams in the Alternatives Report illustrates the NEC coastal route in southern New England not as even intermediate tracks, but as "local tracks."
If billions are spent on a new HSR Hartford-Worcester alignment, it's highly unlikely that much will be done to improve the NEC coastal route. How then would a proposed 160mph HSR coastal route be developed along already congested Metro North tracks west of New Haven or curvy track sections of eastern Connecticut?
Today there are only two segments of the NEC north of New York in Rhode Island and Massachusetts that provide 150mph service.
There's a huge difference in the quality of service that an inland 220mph route would provide compared to a 160mph coastal route. It's not too difficult to imagine that if a new Danbury-Worcester NEC route were built that most people who want to travel between Boston and New York would use the inland route. The result for the coast would be the same slower service as today and likely a significant cut in the number of daily trains due to reduced ridership from the New Yorkers and Bostonians.
A 220mph inland route that went through Providence would have similar advantages as a 220mph inland route through Worcester for speed train service between Boston and New York.
In January a Providence Journal reporter, Patrick Anderson reached out to the FRA. When he asked about the population numbers used in the NEC FUTURE study, the FRA's response was that they "acknowledged they didn't use census figures, but Moody's "market projections" because they wanted to use future numbers [and that] it was up to Moody's what they included in each metro area."
When he relayed this to me, it reminded me that a few years earlier at an NEC FUTURE public hearing that study staff members had mentioned that Moody's Analytics was being used to supply data instead of using government figures, because they wanted to be "more accurate."
So why is Moody's data or numbers "future," if the FRA is using Moody's current numbers as the basis for determining future projections?  Why are Moody's figures more "accurate" than the U.S. government's?
In a letter responding to questions I had raised that a staff person at Congressman Cicilline's office received from the FRA, claimed that the numbers were:
"different due to the source quoted (Census data projections from 2014) and boundaries used to calculate the population and employment numbers.  FRA's data (obtained on a county-level basis for the Study Area) is based on Moody's Analytics June 2013 "base" demographic forecasts. Moody's data uses actual Census data (not the same as census projections) to make projections. Moody's supplied three forecasts for the 2040 NEC population and employment projections based on this data: low, base (most likely), and high.

In addition, the geographic boundaries FRA used are not the same as the Metropolitan Statistical Area (MSA) boundaries cited by the constituent. The boundaries in the Tier 1 Draft EIS were drawn based on markets served and do not match up specifically to the MSA boundaries. For purposes of our analysis, the Providence and Hartford metro areas were defined as indicated below:

Providence (all of Rhode Island):
 Providence County, RI,   Bristol County, RI,   Newport County, RI,   Kent County, RI,   Washington County, RI

Hartford (also includes Springfield):
 Hampden County, MA,   Hampshire County, MA, Hartford County, CT,  Tolland County, CT,   Northern half of Middlesex County, CT

New Bedford (Bristol County, MA) is included in the Boston metro area"
If Moody's "uses actual Census data," which is "not the same as census projections," the difference is miniscule.
Example:
1,055,173             Rhode Island population (2014 census projection)
1,052,931            Rhode Island population (2010 census)
3,252                    Difference
If the FRA's data is "obtained on a county-level basis for the Study Area" and the claim that Moody's is using "all of Rhode Island['s]" five counties to determine the Providence area population, where did the figure of 970,000 in the Alternatives Report come from, that misses 80,000 from Rhode Island's population?
Was Newport County or something else left out of Moody's calculation for Rhode Island Why is it that "boundaries in the [DEIS] were drawn based on markets served and do not match up specifically to the MSA boundaries" and "New Bedford (Bristol County, MA) is included in the Boston metro area?"
FRA further stated to Congressman Cicilline's office that:
"Alternative 3 in the Tier 1 Draft EIS includes four representative route options for a second spine between New York and Boston. All four options – two for service between New York and Hartford and two for service between Hartford and Boston – have been objectively evaluated in the Tier 1 Draft EIS.  Importantly, a second spine is intended to supplement the existing NEC, which would be brought to a state of good repair and expanded to accommodate 2040 demand. Thus, in any Alternative 3 route option the infrastructure and service on the existing NEC would be improved. 

Most importantly, FRA has not chosen a Preferred Alternative. The decision on the Preferred Alternative will be based on the findings presented in the Tier 1 Draft EIS, public and stakeholder comments, and FRA policy guidance."
How is it possible for the FRA to make an "objective" choice in selecting a "Preferred Alternative," if the data that's the basis of the study, uses inaccurate population figures, which artificially exaggerate or bloat the Hartford metro area and deflate or mask the actual population of the Providence metro area.
Whether Moody's, FRA, or NEC FUTURE wants to believe it or not, the Providence metropolitan area includes all of Rhode Island and Bristol County, MA, and has over 1.6-million people making it the second largest metropolitan are in New England after Boston.
Rhode Island and Bristol County, MA are economically and culturally intertwined.  Every day people cross the state line in both directions to work, attend school, shop, deliver goods, provide services, and attend cultural events. Members of families live on both sides of the state line.
It's laughable to think that someone from New Bedford, who wanted to take Amtrak to Baltimore, would drive 60 miles north (in heavy traffic) to Boston instead of 30 miles west to Providence. As Moody's defines it, Dartmouth or Westport, MA are "part of the Boston metro," should medical helicopters with accident victims be redirected from the Rhode Island Hospital Trauma Center to Massachusetts General instead? Should the Providence/New Bedford TV stations be broken up, because Moody's thinks Bristol County, MA is Boston?
Clearly Moody's has misrepresented or misinterpreted the Providence metropolitan area geographic boundaries and population. With the FRA's response to Patrick Anderson with its claim that they didn't use census figures, contradicts with the response that Congressman's Cicilline's office received from an FRA insisting that Moody's and the FRA used census figures instead of census projections.
What is the truth?
If Moody's numbers stand uncorrected in the DEIS and the final EIS and the study process will not be credible, because it will be based on inaccurate and untrue data.  The Census and Bureau of Labor Statistics or other appropriate federal agencies or possibly a private company that offers similar services as Moody's, should be directed by the FRA to conduct a peer review to independently verify Moody's assumptions, methodology, and numbers, before the Final EIS is competed and issued.
By the time any of the projects outlined in the DEIS are funded, many government office holders likely will be out of office. What will remain is a faulty document based on bad numbers, which future leaders will base decisions on. Anyone who's ever worked on an EIS knows that you try to include examples and data that best support your proposal or preferred project.
Alternative 3.4 looks very similar to earlier Amtrak proposals, which were published around 2010 of a Danbury-Hartford-Worcester and Danbury-Hartford-Woonsocket alignments. To my knowledge Amtrak has never shown a second HSR alignment in southern New England that goes through Providence, even though the FRA does with this NEC FUTURE study.
Has a Preferred Alternative already chosen and is the EIS being used to justify that choice with erroneous numbers?
Any mistakes or wrong assumptions in data provided to the FRA and NEC FUTURE made by Moody's Analytics must either be corrected or replaced by U.S. government population, employment, and economic data, If not this study and resulting EIS will be skewed and questionable.
This discussion would be a non-issue, if Alternates 1, 2, or 3.1 or 3.2 were selected as Preferred Alternatives. However, if Alternatives 3.3 or 3.4 are selected and eventually built, the implications for the Providence area, the second largest metropolitan area in New England, as well as possibly the New Haven area would be extremely negative. This might be an over dramatization, but in effect Providence would become an outpost on the NEC, similar to the relationship that Syracuse or Rochester has with New York, as Providence would no long have its current advantage of being located on the (real) NEC, if a second HSR line is developed that bypasses the city.
Will Providence continue to be a Northeast Corridor rail city?

,